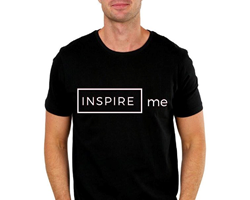 "During my radio shows, I would often say, "You inspire me." So I created Inspire Me Studio after my 2017 sabbatical.This gave me new life and new inspiration." Stacey Marie Kline, Inspire Me Studio
LOS ANGELES (PRWEB) December 07, 2018
The Holidays are a time for giving. Togetherness. Sharing. Inspiration.
So what better time for a versatile entrepreneur and online radio veteran Stacey Marie Kline to officially launch her "Inspire Me with Stacey Marie" show – and the related "Inspire Me" line of products?
Stacey Marie, who overcame a challenging childhood and learning disabilities to go on to wear many hats during her time as a mother, entrepreneur and radio host, is excited for this new opportunity in her life and career.
"I always talk about how I have been so blessed that God answered my prayers," says Stacey Marie now. "After years of asking him, 'Is this it? How are you going to use me to make a difference in this world?' Now I know."
Stacey Marie will bring her proven interview, communication, motivation and inspiration skills to her new show. After many years as a "proud stay-at-home mom," she began her late-blossoming career by hosting a business talk radio show and later launching her own radio station. In the years since, she has gone on to interview an array of inspiring celebrities, entrepreneurs and business owners. Having to learn the ropes on her own, from scratch, enabled Stacey Marie to carve out a unique role in both radio and motivational speaking – and made sure she stays humble, grounded and focused.
The show's second guest will be James "Coach Ballgame" Lowe. Lowe, who has dedicated the last 15 years of his life to youth baseball instruction in Southern California, will have all his players and teams at his popular kids baseball camp wear "Inspire Me" t-shirts. You can learn more about Lowe's own unique, playful and FUN brand of on-field inspiration at his Coach Ballgame website.
The shirts are just one of many "Inspire Me" products that will now be available for purchase online at Inspire Me Studio. From homemade keychains to coffee mugs to block signs, jewelry and more, the product line only figures to grow as her newly inspired movement also blossoms.
"During my radio shows, I would often say, "You inspire me." So I created Inspire Me Studio after my 2017 sabbatical," says Stacey Marie. "This gave me new life – and new inspiration. Now, I'm really ready to interview people who are willing to open up and share some of their own struggles in life. These are the people who will inspire others to empower themselves and other people in this circle of life we all share in."
If you would like to schedule an interview with Stacey Marie or learn more about her show and products, please contact Tracy McCormick by email tracy@lightfinderpr.com. You can also visit http://www.inspiremestudio.com to learn more now.