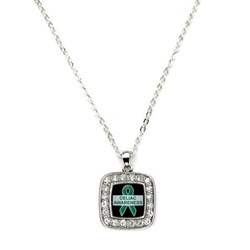 It is our hope that this Celiac awareness necklace will help to accomplish a great deal of good by raising awareness of Celiac Disease
Milwaukee, WI (PRWEB) January 10, 2014
Inspired Silver has long been known as a company whose products are often related to an important cause or issue. The company is now offering a necklace aimed at raising awareness for Celiac Disease, a digestive disease that causes damage to the small intestine and disrupts the absorption of vital nutrients from food.
It is not surprising that Inspired Silver is taking up the effort to raise awareness for this cause. The company offers a number of products in which a portion of the proceeds will be donated, as is the case with this Celiac Awareness Necklace.
"We are quite proud of our charitable endeavors, and we are very much excited to help raise awareness of Celiac Disease," said a representative with Inspired Silver. "It is important to us as a business that we are not solely motivated by profit, and working with causes such as this ensures that we are able to do some good through our business."
The necklace, which is made in the United States, features a charm that displays the ribbon for Celiac Awareness. The logo is framed by simulated diamonds, which causes the eye to be drawn to the center of the charm. The chain is measured at 18 inches in length and is made of white metal.
"The necklace came out quite nicely and we are very pleased with its design," said the representative. "It is our hope that this necklace will help to accomplish a great deal of good by raising awareness of Celiac Disease."
The disease is not uncommon, but it is not exactly well known either. The disease currently affects more than two million people in the United States alone.
"This disease not only affects the person with Celiac," said the representative. "It also affects their friends and family. It is important that we do all we can to help raise awareness. It is our hope that this necklace will help in some small way to accomplish that."