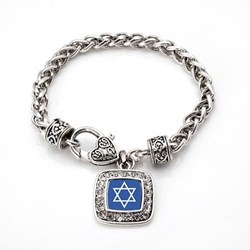 Inspired Silver Caters to High Demand by Offering Star of David Braided Bracelet.
Colorado Springs, CO (PRWEB) January 11, 2014
As a result of the continued high demand for its Star of David Classic Braided Bracelet, Inspired Silver has announced that it will make additional bracelets available for its customers in order to meet their needs.
As is often the case, Inspired Silver has gone to exceptional lengths in order to keep their customers content. The increased availability of this product is merely another case in which the company has continued to offer a product due to increased demand.
The bracelet, which features a one-inch charm that is surrounded by glimmering cubic zirconia stones, has been one of the company's more popular items for quite some time now. The company had no plans to discontinue production of the item, but as a result of its popularity, the company has had to increase its production.
"It is a beautiful item, so you can understand its popularity," said a representative with Inspired Silver. "This has happened with a number of our products, where they become so popular that it becomes somewhat difficult to keep up with the demand. Fortunately, we have so many great people working with us that we are always able to meet the needs of our customers."
The braided bracelet also features a heart clasp and measures seven and one-half inches long. The bracelet is made in the United States and its charm has a white Star of David in front of a royal blue background.
"The simulated diamonds that surround the Star of David are there to draw the eye in to the center of the charm," said the representative. "It makes the Star of David almost seem like it is glowing or gleaming, which I think is appropriate given its important meaning to such a large group of people."