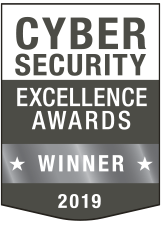 "Inspired eLearning is extremely thrilled to be awarded the distinction of two Cybersecurity Excellence Awards," said Kyle Metcalf, Inspired eLearning CEO. "Our security-first culture and commitment to delivering the best content and tools to our customers has set us apart from the competition."
SAN ANTONIO (PRWEB) February 26, 2019
Inspired eLearning, the world's most effective security awareness platform, announced today that the company has been named a winner of two 2019 Cybersecurity Excellence Awards. Their flagship product, Security First Solutions, earned the Silver Award in the Cybersecurity Product category for both Security Education and Security Education Platform.
"Inspired eLearning is extremely thrilled to be awarded the distinction of two Cybersecurity Excellence Awards," said Kyle Metcalf, Inspired eLearning CEO. "Our security-first culture and commitment to delivering the best content and tools to our customers has set us apart from the competition."
The Cybersecurity Excellence Awards honor individuals and companies that demonstrate excellence, innovation, and leadership in information security. Winners are based on the strength of their nomination and the popular vote by members of the information security community.
"It's always humbling to be recognized by industry peers and experts for the hard work our team puts into producing top quality content and courses," said John Trest, Chief Learning Officer. "And we are fully committed to continue providing industry-leading content that not only engages our audience, but also helps them protect the organizations they serve."
Inspired eLearning is continuing to be recognized as a leader in the computer-based training market, on the heels of a record-setting 2018, where they won 39 Awards – the most awarded security awareness company of 2018.
For a list of all awards Inspired eLearning has won over the years, visit https://www.inspiredelearning.com/awards
About Inspired eLearning:
Named an Inc. 5000 company for the 5th year in a row, Inspired eLearning delivers the highest quality educational products to transform corporate culture, nurture and enhance workforce skills and deliver maximum ROI for the corporate education budget. Inspired eLearning offers Security Awareness and Compliance solutions that include Security First Solutions, CyQ Cybersecurity Assessment tool, PhishProof phishing assessment software, content integration and a fully hosted web-based eLearning course delivery and tracking system using the iLMS (Inspired Learning Management System).