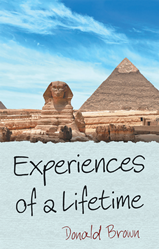 "At the age of 88 I know I do not have many years left on this earth and I wanted to leave a continuing influence for leading others to a faith in Jesus Christ or a strengthening of their walk with Him." - Author Donald Brown
SULPHUR SPRINGS, Texas (PRWEB) June 18, 2019
After having lived over 88 years under the Lord's protective care, Christian author Donald Brown has put pen to paper to share his personal testimonies to demonstrate God's purpose in one's life. His new book, "Experiences of a Lifetime" invites readers on an exciting journey filled with adventure, love and most of all faith.
Brown presents his fascinating stories from being held by a gang in the top of the Great Pyramid to a night on an Indian reservation to roping fish with each experience followed by a life application and appropriate scripture to inspire the reader to see God's purpose and strengthen their own faith through life experiences. He also shares his testimonials of how God's protective and guiding hand saw him through the different phases in his life from ranch hand, company sales director, pastor and as a missionary.
"At the age of 88 I know I do not have many years left on this earth and I wanted to leave a continuing influence for leading others to a faith in Jesus Christ or a strengthening of their walk with Him," said Brown.
Through "Experiences of a Lifetime" readers will ultimately be able to see God's activity in all of life's experiences and be able to seek God's plan for their own lives and take action to fulfill it. To learn more please visit, http://www.donaldbrownauthor.com.
"Experiences of a Lifetime"
By Donald Brown
ISBN: 978-1-9736-5366-0 (sc); 978-1-9736-5367-7 (hc); 978-1-9736-5365-3 (e)
Available through Amazon, Barnes & Noble and WestBow Press
About the author
Donald Brown has been preparing the type of messages that hold the attention of people of all ages ever since his high school years. He has had a large number of interesting experiences of many types in various locations around the world during his 88 years. His work history includes life on the farm, a ranch hand, national sales director and vice president of a pharmaceutical company, pastor and director of missions. Brown received his BA degree with a major in religion at Eastern New Mexico University, his MDIV at Southwestern Baptist Theological Seminary and his DMIN at Midwestern Baptist Theological Seminary and wrote a 224 page hardback for his doctoral dissertation titled "Creative Lord's Supper Services" which is available at the Midwestern Baptist Theological Seminary library. Brown has lived in five states and has traveled in the Near east, Europe and elsewhere and currently resides in Sulphur Springs, Texas.
Interview & Review Copy Requests Contact:
LAVIDGE – Phoenix
Lauren Dickerson
480-998-2600
LDickerson(at)lavidge(dot)com