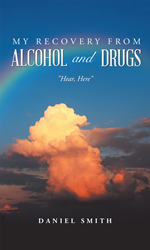 "My hope in sharing my struggle and recovery is to aid those who still suffer from a world of addiction and for those who strive to help others turn their lives around for the better." Daniel Smith
DETROIT (PRWEB) April 04, 2019
With the new year well underway, many have likely forgotten their New Year's resolutions, and for some, the desire to over come alcohol and drug addiction may have been at the top of their list. According to the Addiction Center, "the consumption of alcohol is often abused alongside other drugs and over 2 million people found treatment for their alcoholism in 2011."
Due to these alarming statistics, along with his own personal experience of struggling with alcohol and drug abuse for 25 years, author Daniel Smith decided to publish his story. "My Recovery from Alcohol and Drugs: Hear, Here," was written to provide encouragement and hope for those struggling as Smith once did as well as to provide advice for those trying to help their loved ones in need.
"My Recovery from Alcohol and Drugs" chronicles Smith's life from addiction to sobriety as it enlightens readers about his path to addiction at a young age and how he was able to recover. Smith also wants to shed light on addiction and mental illness as according to Mental Health America, "substance abuse affects an estimated 25 million Americans and people with depression or other mental health problems are more vulnerable to alcohol and drug use."
"My hope in sharing my struggle and recovery is to aid those who still suffer from a world of addiction and for those who strive to help others turn their lives around for the better," said Smith.
"My Recovery from Alcohol and Drugs: Hear, Here"
By Daniel Smith
ISBN: 978-1-5043-9470-3 (sc), 978-1-5043-9471-0 (e)
Available through Amazon, Barnes & Noble and Balboa Press
About the author
Daniel Smith was born and raised on Detroit's west side. A troubled fellow at an early age he experimented with alcohol and drugs on several occasions. He became addicted around the age of 17 and did not find recovery until the age of 42. Smith wants readers to know how he was able to recover and live a reasonably happy and productive life to inspire those who have addiction issues or know someone that does that there is hope.
For Review Copies and Interview Requests:
LAVIDGE – Phoenix
Lauren Dickerson
480-998-2600 x 601
ldickerson(at)lavidge.com