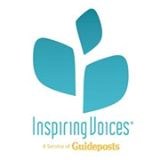 Bloomington, IN (PRWEB) November 22, 2013
Inspiring Voices, a spiritual self-publishing service from Guideposts announced 23 finalists for the 2013 Inspiring Voices Book Publishing Contest. The contest was open to any author with an unpublished manuscript of at least 10,000 words in length. The grand-prize, first-place and second-place winners will be chosen by an editorial team from Guideposts and will be announced on Dec. 20, 2013.
The 2013 finalists, along with their manuscript titles are:

Katrina Black – Abbey's Fate
Donna F. Waters – Makua: From Cursed to Christ
Jordan Blickenstaff – Stories within The Story
Leona N. Loller – Misguided Journey
Chuck Thomas – The "Why Not?" Factor
Diane J Kramer – Coffee Soup
Nicole Starbuck – Calling it Quits
Susan Briggs Parris – Utterly Amazing
Joanie Taylor Hess and Annie Taylor Jornlin – Molly Takes the Cake
Sally W. Burbank – Patients I Will Never Forget
Sharon F. Norton – The Prodigal's Brother
Deborah J. Marcussen – There Will Be Birds
Sue Montgomery – Final Moment
Donna Joan Nobles – Fourteenth and Central
Linda Jane Bordner – Ten Good Years
James M. Cooley – Cody's Story
Melinda Perry – Frank, Ed, and the Other Me
Katelyn Dover – Expectations
Lorene Masters-Ness – Hungry Heart
Mae Ronan – Anna von Wessen
Carolyn A. Spangler – Joy Comes in the Morning
Walter J. Courtney – Just Doing It Right
Avion Blackman Mohr – Third World Girl
The grand-prize winner will receive an Inspiring Voices Uplift Publishing Package and other promotional benefits, including mentions in an upcoming issue of Guideposts magazine. One first-place winner will be rewarded with a free Inspiring Voices Uplift Publishing Package, and one second-place winner will receive a free Inspiring Voices Encourage Publishing Package. These winners will be chosen from the group of finalists. The remaining 20 finalists receive 20% off any Inspiring Voices Publishing Package.
For more information about self-publishing your book with Inspiring Voices, visit inspiringvoices.com. Like us on Facebook at http://www.facebook.com/IVPublishing, and follow us on Twitter @IVPublishing for the latest Inspiring Voices news, features and publishing promotions.
###
About Inspiring Voices
Inspiring Voices, a service of Guideposts, is dedicated to helping you share your words of hope, faith and inspiration with the world. As a self-publishing service, we are here to guide you through the process of getting your book in print. We offer our professional advice, outline the necessary logistics, and then step back and let you take charge of the final decisions related to your published book. Log on today to inspiringvoices.com for more information on publishing your book with Inspiring Voices. "Like" us on at facebook.com/IVPublishing and follow us on Twitter @IVPublishing for the latest Inspiring Voices news, features and publishing promotions.