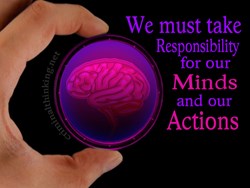 The graphics we share on our social media sites have helped propel the visibility of our brand
Bethesda, Maryland (PRWEB) August 31, 2013
CriminalThinking.net is expanding its line of product offerings as a result of popular demand by customers for poster-sized versions of inspirational quotes.
Beginning in early 2012, CriminalThinking.net hired the creative talents of a Washington State digital artist, Angela Martinez. Ms. Martinez began creating graphic designs based on popular inspirational quotes for sharing on Facebook and Pinterest. The inspirational quotes help promote the website and increase customer engagement across social media platforms.
Angela's designs have continued to evolve over time and her artwork has increased in popularity. The recent CriminalThinking.net rebranding efforts were inspired by her creations and customers began requesting poster-sized versions of the artwork for display in therapy programs, homes and halfway houses. The criminal thinking blog "Criminal Thinking Deterred" even has an "CT Group Tip" based on creative ways to use the digital art.
"Angela was given full creative freedom to design images that inspire the imagination" says Brian Loebig, MBA/CDCIII, proprietor of http://www.CriminalThinking.net website. "The graphics we share on our social media sites have helped propel the visibility of our brand and increases the professionalism of our web-based services."
Criminal Thinking graphics are available for free on the CriminalThinking.net website on the "Pinspiration" page. Images that are available in poster sizes can be purchased online through PayPal or by credit card.
About CriminalThinking.net:
CriminalThinking.net was developed collaboratively by practitioners, in the corrections and substance abuse treatment fields, who have offered content, recommended links, suggested improvements and provided information. All primary material is provided free of charge. Supplemental materials and inspirational posters are offered for a fee and help with the development and creation of new materials on the site.