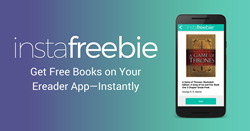 Actually getting an author's book into a reader's hands is the essential first step in forming a relationship between them.
Boston, MA (PRWEB) August 07, 2017
Ask an avid reader to tell you how they transfer ebook files to their preferred reading device or app, and they'll describe a process so complicated that even the most determined bookworms tend to give up halfway through. Devices like the Amazon Kindle® make it difficult to download and read ebook files that aren't purchased directly from the retailer, even if the book in question was legitimately acquired from the author. Instafreebie aims to solve this issue of deliverability with an app that allows readers to easily download free content to their favorite ereader app.
"At Instafreebie, we are all readers, and this app gives us the opportunity to drastically improve the reading experience of millions of consumers who are switching from print books to digital content," said Instafreebie CEO Jason Freeman. "We make connections between authors and readers because we believe there's a fan out there for every story. This app is the perfect way to build these connections, because actually getting an author's book into a reader's hands is the essential first step in forming a relationship between them."
To make it even easier for readers to enjoy their new library, Instafreebie made sure the app is available on the smartphone platforms with the most difficulty in receiving ebook files. The Instafreebie app works with Android™ devices. It is also compatible with ereader apps found on those devices, including Kindle, Kobo, NOOK Reading, and Google Play Books. Readers can fill their sortable, searchable library with an unlimited number of downloadable books.
Instafreebie's app represents a larger shift in the publishing industry towards mobile platforms. As consumers increasingly turn to mobile devices for digital media consumption, both authors and publishers must ensure their content is accessible to these users. The Instafreebie app will benefit both traditional and self-published authors who are looking to more effectively reach mobile audiences.
About Instafreebie: Instafreebie is the book world's leading platform for exclusive access to sneak peaks, advance previews, and special giveaways. We want readers to SEE IT FIRST™. For authors, we want to help them connect with loyal readers. For readers, we want to give them the freedom to explore and discover new authors they'll love.
Android is a trademark of Google Inc.
Kindle is a trademark of Amazon.com, Inc. or its affiliates.