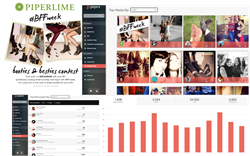 Piqora makes it easy for brands to host and track photo and video contests on Instagram.
San Mateo, CA (PRWEB) October 22, 2013
Piqora (formerly Pinfluencer), the only marketing and analytics company to work with all three visual social networks, Pinterest, Instagram & Tumblr, has just launched an Instagram promotion hosting, management, tracking and analytics platform allowing marketers to deploy custom branded photo contests and sweepstakes to maximize viral reach and grow authentic communities on Instagram. With this announcement, Piqora's hashtag monitoring platform is also out of beta making Piqora the only image recognition based dashboard to track influencers, hashtags, top photos, videos and comments across all big visual networks.
Piqora's mobile-friendly contest platform allows fully customizable landing pages that can be hosted on a blog, micro-site or Facebook. The Campaign Tracking Dashboard identifies list of participants, their influence and eligibility along with top photos, videos and comments that were uploaded as part of the campaign. Marketers can easily pick winners from the eligible contest participants, start following them directly from within Piqora and also like their campaign media to demonstrate reciprocity. Comments Dashboard allows marketers to respond to any campaign related questions and converse with their participants to further boost participation.
"Savvy social marketers understand that they need to look beyond FB and Twitter to reach their audience. Pinterest, Instagram and Tumblr have more than 300 million users combined – and marketers need to be on these visual networks, building communities, increasing brand awareness, distributing content and ultimately driving purchase intent," said Piqora CEO Sharad Verma. "B2C Marketers need to think differently as strategies for Facebook and Twitter do not always translate to the interest-based networks."
Piqora's Hashtag Listening Platform for Instagram enables marketers to identify, categorize and segment the list of advocates and influencers, engage with the top media in different hashtag categories and re-publish top performing media in their other online destinations and marketing campaigns. Brands can easily filter, monitor and respond to comments and easily compare the reach of their hashtags with that of their competition.
Piqora also recently announced a knowledge resource center comprising of thought-leadership, case studies and best practices content for Pinterest, Instagram, & Tumblr to help visual web marketers better understand the landscape and effectively engage with their audience.
About Piqora
Piqora is the leader in marketing and image analytics for visual, interest-based networks and the only company to support all of the Big Three visual networks: Pinterest, Tumblr and Instagram. The first to launch a complete marketing suite and incorporate engagement, hashtag, conversion and revenue metrics, Piqora already has hundreds of well-known retailers, brands and publishers using its promotions and analytics engine to identify and connect with influential brand advocates, gain actionable insights into trending images and measure key engagement metrics that quantify brand engagement. Top brands working with Piqora include Sephora, Zappos, Etsy, Z Gallerie, Orbitz and Steve Madden. For more information on Piqora visit http://www.piqora.com.
Media Contact: Sabrina Carrozza, 646.596.2853, Sabrina(at)sabrinalcpcomms(dot)com