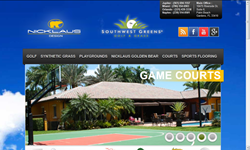 HydroChill Home is a game changer in the synthetic grass industry. It brings more comfort for your families and pets during the hottest days.
(PRWEB) March 18, 2015
The synthetic grass surfaces can become hot, especially during the summer months. With HydroChill, one can now control the surface temperatures by 30 to 50 degrees once hydrated. Extensive testing in both laboratory and real world outdoor settings have produced a revolutionary product - HydroChill. Southwest Greens introduces HydroChill Home to withstand the heat on synthetic lawn and landscape surfaces.
One of the executives quoted, "HydroChill Home is a game changer in the synthetic grass industry. It brings more comfort for your families and pets during the hottest days. Although the results will vary due to geographic location and the local conditions, this product lowers the surface temperature by 30°F to 50°F as compared to the standard synthetic lawn surface when measured by an infra-red thermometer. We are committed to bring innovation to the forefront of this industry and the new HydroChill Home technology is the result of that commitment."
Southwest Greens' HydroChill Home provides the maximum benefit when the sun is near the Earth. During summers, the sun is positioned overhead and absorbs more energy, resulting in hotter temperatures. Temperature differences of 50 degrees have been recorded on real world, outdoor tests. The technology is applied to a synthetic lawn where components react and form a coating on the infill. The lawn is then watered to activate HydroChill Home. Next, the sun absorbs water , removing the heat from the surface, hence leaving the synthetic lawn cooler and more comfortable for its users.
The executive added, "There are various kinds of infill that help combat heat including the black crumbled rubber infill, light coloured granulated infill that deflects high temperature a lot better than infill that is made up primarily of dark crumbled rubber. Using these types of infill on your fake grass lawn is highly recommended so as to lower the temperature of your artificial green grass. Using our HypdroChill Home is as simple as spraying the exterior surface with water for just a few minutes before using it."
Southwest Greens is the largest supplier and installer of artificial putting greens, synthetic grass, playground surfaces, golf tee lines, basketball & tennis courts. They also install artificial grass for dogs. Southwest Greens deliver quality finished products and they have high quality products to offer. They have installed over 300,000 sq.ft. of synthetic turf grass in Florida in 2012 and are the long lasting synthetic grass installers.
About Southwest Greens :
Southwest Greens of Florida, has installed artificial turf at fort Lauderdale. They have been expanding since 2002,and their grass installation business has expanded to include Miami, Orlando, Tampa, West Palm Beach and so on. They are a leading artificial grass supplier, and has offices all over the Florida. Southwest Greens provide good quality synthetic grass for Lauderdale.
Contact Information:
Address : 10475 Riverside Dr,Suite 6,
Palm Beach Gardens, FL33410
# # #