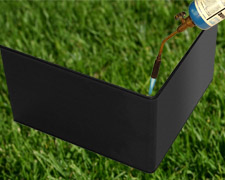 Villa Park, IL (PRWEB) May 01, 2014
Oly-Ola Edgings, Inc., the leading producer of premium grade 100% recycled commercial paver restraint and landscape edging products, recently unveiled a new Installation Tips section on the Oly-Ola website. Designed to answer questions and provide "How-To" tips and tricks, the website section is an excellent tool for landscape contractors to learn more about installing landscape edgings and paver restraints with precision. The how-to section, available at http://www.olyola.com/installtips.php includes tips on installing paver restraints and landscape edgings, preventing frost heave and gapping, edging straight lines, creating angles in paver restraints and edgings using a blow torch, and much more.
By releasing this Installation Tips website section, Oly-Ola hopes to empower landscape contractors to install landscape edgings and paver restraints correctly, to achieve maximum benefit and offer tricks of the trade. The topics covered in the how-to section are instrumental to successfully installing landscape edging. In addition, several creative ideas are explained in detail, to encourage innovation and ingenuity when using landscape edging or paver restraints. This guide is the latest addition to Oly-Ola's extensive customer service offerings, and the company welcomes customer questions by phone or email.
For over 35 years, Oly-Ola, Edgings, Inc., headquartered in Villa Park, Illinois, USA, produces the most complete line of polyethylene/vinyl edging and paver restraints in the landscape industry. Oly-Ola promises the industry's strongest comprehensive guarantee: 100% Plus for 20 Years Includes All Freight and Labor. Oly-Ola's shipping policy is hassle-free. Orders are delivered by the industry's fastest shipping. Oly-Ola maintains a large inventory 12 months a year, so there are no back orders. Oly-Ola has an international distributor network and supports many national and state landscape organizations.
For more information, please call or write:
Oly-Ola Edgings, Inc. 124 E. St. Charles Road, Villa Park, IL 60181.
Phone: 800/334-4647. Fax: 630/833-0816.