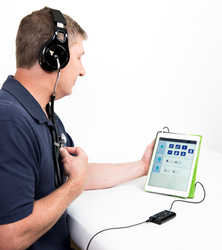 InstaMD gives these patients an easy way to have their vital signs checked by licensed physicians without having to leave their homes.
Santa Clara, CA (PRWEB) June 05, 2014
The InstaMD Multi-Use Headset, the new personal health monitoring device that allows users the ability to record, track and share vitals via their mobile device, hopes to work in conjunction with Apple's newly announced HealthKit system. Apple's HealthKit system, announced at the Worldwide Developers Conference on June 2, will allow users to gather all third party health and fitness apps in one place. The Multi-Use Headset is the debut product from InstaMD, a startup company specializing in telemedical devices and is currently hosting their campaign on Indiegogo in order to raise the funding for the first round of production.
Easily attachable to any previously owned stethoscope, the headset provides users with the ability to record high-quality vital signs and sounds. Patients with medical conditions can use the Multi-Use Headset to stay on top of their conditions, while health-conscious individuals can ensure their vitals stay in the healthy range. Through the InstaMD web and mobile app, patients can then upload the data directly to the InstaMD servers where their physicians can view the data and provide feedback. In addition, patients will have the opportunity to teleconference with physicians through real-time video chat.
"We wanted our debut product to address a problem that affects people across entire world," says Dr. Subbarao Myla, co-founder of InstaMD. "By making physician care accessible to all, the Multi-Use Headset is geared toward helping raise the standards of healthcare."
The headset provides those with medical ailments or concerns an easier way to monitor their vital signs and sounds. Patients with mobility issues or other varying disabilities can connect with their physicians remotely, eliminating the need for scheduling troublesome or tiresome office visits.
"There are millions of patients worldwide that physically can't travel to see a physician," said Dr. Myla. "InstaMD gives these patients an easy way to have their vital signs checked by licensed physicians without having to leave their homes."
Potential backers have until June 19 to back the campaign. The Multi-Use Headset can be pre-ordered for $99, although early pledgers to the campaign can take advantage of the special $85 early-bird pricing for the InstaMD headset while supplies last. Special distributor and wholesale packages that include larger quantities will be available as well as developer packages that include API access. For more information or to place a pre-order, visit the campaign website. For more information, like them on Facebook and follow them on Twitter @InstaMD
ABOUT INSTAMD
InstaMD was founded by a diverse group of individuals with expertise in a variety of areas, including medicine, technology and retail. What we shared, and continue to share, is a passion for innovation and a genuine desire to increase access to quality healthcare. Our goal is to create products that would not only be convenient and easy to use, but wouldn't require the user to invest in expensive new equipment. Rather than reinvent the wheel, we devised a way to combine existing technology with simple medical devices to produce an affordable system that anyone can use. For more information, visit http://www.instamd.co.