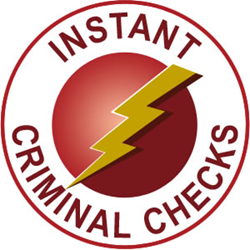 InstantCriminalChecks.com is a leading provider of local, federal, and state criminal background checks.
Boston, MA (PRWEB) January 29, 2015
InstantCriminalChecks.com has redesigned its website in order to make it easier than ever for customers to access the criminal checks and court records that they require. The new website includes features that enhance the overall user experience, and make the ordering process as streamlined as possible.
The fresh layout allows users to quickly find the information they need with easy-to-use tabs at the top of the page. Users have the opportunity to search for county, state, and national criminal background checks, while exploring the employment screening and tenant screening services that are available. They also can quickly search for services that are available by state, providing users with the opportunity to locate the information that is most relevant to them in a matter of seconds.
The new website also has provided users with the chance to view sample reports. This unique feature gives customers a chance to explore a sample report and decide if it is the right choice for them. It allows customers to see first-hand the clean layout of the criminal reports and see an example of the type of information that they will receive once they place their order. Landlords, business owners, property owners, and large corporations will find this to be a useful tool as they complete their research on potential tenants and job candidates.
InstantCriminalChecks.com is a leading provider of local, federal, and state criminal background checks. The company provides its clients with instant, accurate reports that are easy to read and interpret.
One of the premier features of the new website is the simple ordering page. Once they click on the "Order Now" tab on the front of the page, they are redirected to a simple form. Customers can then easily fill in the appropriate information, place their order and receive their criminal background check report in a matter of minutes.
InstantCriminalChecks.com is committed to providing its customers with superior employment screening solutions, criminal background data, and instant criminal reports. In addition, the company maintains its commitment to premier customer service. The new design of the website is proof that the company wanted to enhance the user experience and make the process of obtaining the most relevant and reliable data easier than ever before.