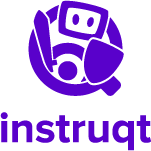 Instruqt webhook integrations provide our customers a new source of competitive advantage by turning real-time, event-based data into business insights that accelerate product growth
AMSTERDAM (PRWEB) October 06, 2021
Instruqt, a next-generation hands-on virtual IT lab platform for software adoption, is pleased to announce the launch of webhook integrations. The availability of webhooks provides the opportunity to easily integrate Instruqt with third-party systems by subscribing to events in the labs. These events offer real-time insights based on the activity of users and sandboxes.
"Instruqt webhook integrations provide our customers a new source of competitive advantage by turning real-time, event-based data into business insights that accelerate product growth," says Coert Baart, CEO of Instruqt.
Unlock reality to drive growth at the speed of business
For revenue teams at tech companies, dealing with business applications that do not talk to each other is frustrating. And worst of all, they run the risk of missing out on opportunities and revenue. The success of marketing, sales, and customer education is dependent on acting quickly, decisively—and preferably automatically, on any business event.
Benefits of Webhook Integrations on Instruqt

Increase productivity and efficiency: revenue teams can build their automated workflow using real-time, event-based insights of their users/prospects and sandboxes.
Make better-informed decisions: organizing and actioning user insights made easy by connecting their labs with their CRM/Marketing Automation (such as Marketo, HubSpot, Salesforce) and LMS (such as Skilljar, LearnDash).
Trigger real-time notifications: create notifications when a sandbox is created, claimed by a user, and cleaned.
Marketing: Get more insights into the value of a lead
Better qualify leads based on engagement, frequency of consuming their content in the labs. By connecting Instruqt with a CRM/Marketing Automation such as Marketo, HubSpot, or Salesforce, they can design a seamless workflow to capture and nurture leads from their website or product workshops. What's more, they can trigger lead notification to sales for timely follow-up.
Sales: Gain visibility into their target accounts
Sell smarter with demo catalogs that track their prospects' usage and engagement. Enable their champions to sell internally with a shareable demo. Webhook integrations shine a light on how their prospects interact with their demos so that sales can drive the right action at the right time without leaving their CRM.
Customer education: Track learner progress easily
Provision a virtual hands-on lab environment in real-time as part of their onboarding or training curriculum in an LMS, e.g., Skilljar, LearnDash. Integrate the activity-based insights with their LMS and track the progress of their learners, employees, or partners. In addition, they can collect feedback on their labs right into their LMS, measure content usage to enhance their learning offerings.
Sell more, market, and train better with extraordinary visibility and insights
Just like any other business application, virtual IT labs are part of the ecosystem. Revenue teams continuously face challenges to collect, enrich and correlate data across disparate sources in their growth stacks. With Instruqt Webhooks, we offer a more seamless inter-product experience to help make our customers' jobs effective and their customers' experience more pleasant. Furthermore, the data integration via webhooks enables more thorough data analysis, accurate reporting, and ultimately better business decision-making.
About Instruqt
Instruqt is a hands-on virtual IT lab platform. We help software companies drive engagement and help people see the value of their products in the entire customer lifecycle. Companies like Google Cloud, HashiCorp, Puppet, Red Hat, Lacework use Instruqt to create hands-on tutorials, self-service demos, POCs, and training. As a result, they generate millions of dollars in the pipeline and account expansion.
Learn more at https://instruqt.com/ or call +1 857-203-7667
Follow Instruqt on LinkedIn https://www.linkedin.com/company/instruqt/ and on Twitter https://twitter.com/instruqt