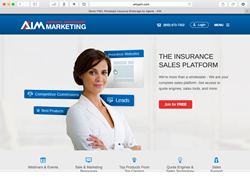 This free platform includes a number of essential tools that any insurance agent will certainly find useful
Yakima, WA (PRWEB) May 06, 2015
American Independent Marketing (AIM) announced that it will be re-launching its flagship agent-focused website, WhyAIM.com, as a no cost platform of insurance sales tools. Driven by customer demand, insurance sales are becoming more technology-driven. To support agents in this transition, AIM has developed WhyAIM.com. The website offers a comprehensive platform of sales tools, online resources and educational materials.
"This free platform includes a number of essential tools that any insurance agent will certainly find useful," said John Hennessey of AIM. "Some of the tools include quote engines for long term care insurance and Medicare supplements, a library of training webinars and videos, real-time applicant tracking and status and material downloads."
Additionally, AIM is providing agents with marketing materials including direct mail campaigns, pre-written email templates and sales-focused agent websites. All agents need to do is create a free account on whyaim.com.
According to Hennessey, making resources such as these available for free is not traditionally done. However, AIM viewed it as a critical evolution of their business.
"The role of an insurance wholesaler is changing," said Hennessey. "Most FMOs provide tools only to agents once they have contracted with them, but we've decided to turn things around and give all agents access to our tools as the first step of our relationship to prove that we will make you more successful."
AIM's product portfolio is made up of a selection of key offerings from the nation's leading long term care insurance, Medicare supplement, and critical illness insurance carriers. This, combined with AIM's market reach and the tools found on WhyAIM.com, provides agents that they work with the ability to stay ahead of their competitors and grow their sales.
About American Independent Marketing
Since 1979, American Independent Marketing (AIM) has been educating Americans on products and services that support many aspects of long term care planning. With a passion to source and provide only financially sound products from top-rated companies, AIM is committed to excellence from the home office to their specialists in your community. For more information, please visit https://whyaim.com