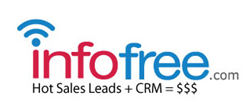 You have your selected group of people that you've chosen through the lead list right there for you.
(PRWEB) July 24, 2014
Infofree.com, the premier provider of sales leads, mailing lists and email lists, continues to help subscribers grow their businesses. Andrea Davis, an independent insurance agent with Insurance Specialists recently revealed how infofree.com has helped her company expand into new regions.
Prior to subscribing with infofree.com, the agency promoted its business through referrals, senior centers and seminars. Insurance Specialists recently expanded to St. Louis, Mo., where it did not have a client-base to get referrals. It used infofree.com's sales leads to reach a mass audience, get new clients, and encourage word-of-mouth.
The company also used a mailing service to find insurance leads. Upon switching to infofree.com, they've found a larger, more accurate system with fewer redundancies and duplicate names.
Aside from the lead service infofree.com offers, Davis has also discovered a great asset in CRM101, infofree.com's contact management tool. She endorsed the easy-to-use contact manager saying, "It makes it a lot easier…you have your selected group of people that you've chosen through the lead list right there for you."
Insurance Specialists works primarily with senior citizens and the senior market. Davis helps seniors with their insurance needs and retirement income.
Infofree.com helps Davis and many other insurance agents find hot insurance leads, mailing lists and email lists. Insurance agents can narrow down their searches and find prospects according to specific criteria including people turning 65, new homeowners, new drivers and many more specialty lists.
"Insurance agents need to find quality sales leads that are relevant to the services they offer," said Vin Gupta, founder of infofree.com. "The hot leads and specialty databases at infofree.com allow agents to reach their individual markets easily and accurately."
Infofree.com is a subscription-based service offering sales leads, mailing lists, email lists, business credit reports, background/criminal searches and a free contact manager, CRM101. To take advantage of these tools and expand your business go to http://www.infofree.com.
About Us: Infofree.com™ is revolutionizing the sales lead and mailing list industry by providing unlimited search, select and view of over 15 million business records, 250 million consumers and hundreds of other specialty databases for the low, flat price of only $59.95 per month or $599.50 per year. Reach new homeowners, new movers, newlyweds, new businesses and much more!