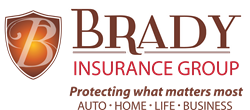 "We want our clients to feel self-assured in their awareness of insurance matters and their choices when buying insurance" - Tom Brady, Brady Insurance Group
(PRWEB) September 05, 2014
Brady Insurance Group has rolled out a new, multi-purpose website to better help consumers in Lakewood Ranch, Sarasota, Bradenton, Tampa, St. Petersburg and nearby cities, which you can now view at http://www.tombradyinsurance.com/. The website was designed to be easy to navigate and offers many valuable resources in order to make insurance easy, fast and effective.
Consumers can now utilize many insurance-related features, as well as request free homeowners and auto insurance quotes, from any personal computer or mobile device. These features include requesting changes to a policy, filing claims and reading the informative content in our blog. The new website works to enhance Brady Insurance Group's reputation for delivering cost-effective homeowners insurance and exceptional customer service.
"The purpose of our new website is to make searching for insurance easier than ever, while providing the personal approach of customer service," said Tom Brady, Owner of Brady Insurance Group. "We want our clients to feel self-assured in their awareness of insurance matters and their choices when buying insurance, and our team of top-notch agents is there to offer assistance whenever possible."
By visiting http://www.tombradyinsurance.com/, clients can likely find the answers they seek about homeowners and auto insurance and other regularly asked questions without the need to pick up the phone. However, human communication cannot be replaced and skilled agents are still available to provide assistance.
About Brady Insurance Group
Brady Insurance Group is an independent insurance agency, serving consumers across the Florida Suncoast. Brady Insurance Group evaluates the needs of clients and shops for insurance policies on their behalf in order to provide fantastic coverage and customer service. For more information, visit our website at http://www.tombradyinsurance.com/.