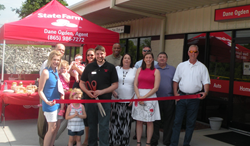 We are nothing without our customers, so we wanted to show our appreciation.
Lenoir City, TN (PRWEB) June 12, 2015
"We held a Loudon County ribbon cutting ceremony, along with a customer appreciation open house on June 5," said Ogden, who recently opened a new office and became a member of the Loudon Chamber of Commerce.
During the ribbon cutting and customer appreciation event, according to Ogden, refreshments were served while kids in attendance played games. Ogden also partnered with a carwash in the area, 3 Minute Magic Carwash, and gave out car wash coupons for a free $15 car wash.
"We are nothing without our customers, so we wanted to show our appreciation," Ogden said. "Insurance is part of everyone's life in one way or another, so we believe deeply in customer satisfaction."
Types of insurance the agency offers includes auto, motorcycle, sport and leisure vehicles, home and property, identity protection, life, health, long-term care, disability, liability, business, annuities, and more.
As to why anyone should give State Farm Insurance Agent Dane Ogden a try, Ogden, said, "It's true: we hold up our end of the bargain. We like to step up to the plate by handling every claim with care and precision. Our exceptional claims service has been delivering on our promises ever since we handled our first claim. Immediate, personal claims assistance is available 24 hours a day, 7 days a week, all year long."
###
About Dane Ogden, State Farm
State Farm insurance agent Dane Ogden offers home and auto insurance, as well as life and retirement planning. He has been with State Farm since 2011. For more information or a quote, please call (865) 986-7272. The office is located at 2771 Highway 11 E, Suite 10, Lenoir City, TN 37772.
About NALA™
The NALA is a full-service marketing agency providing custom personalized service for small and medium businesses throughout the United States.
PR Contact:
the NALA
news(at)thenala(dot)com
805.650.6121, ext. 361