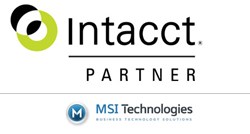 MSI Technologies is honored to be recognized for their part in the rapidly expanding cloud accounting and financial management industry.
Mountain Lakes, NJ (PRWEB) January 23, 2014
Intacct has recognized MSI Technologies as their partner of the month for December 2013. As the leader in cloud based EPR and Accounting solutions, Intacct is a AICPA endorsed cloud provider with over 7,000 customers.
With a rapid demand of cloud-based accounting systems from clients, MSI Technologies decided to partner with Intacct in early 2013 and implemented training and certification for its staff.
Darren Pico, partner at MSI Technologies stated: "Our strategic shift towards cloud based accounting solutions made perfect sense and in that direction, one company - Intacct, was our primary choice." He also added: "Our team has been researching the needs of our clients and decided Intacct cloud accounting software will fit the needs of most."
MSI Technologies implemented a focused strategy to build up their Intacct practice in sales, implementation, integrations, customization, training and support areas.
The company's Intacct cloud accounting and financial management software offerings were an instant hit with to mid-sized businesses in NJ, NY & PA. Companies looking to reduce overhead and lower IT maintenance costs were happy to embrace cloud based solutions from MSI Technologies.
This growth in cloud accounting solutions expertise was noticed by Intacct and in December 2013, MSI Technologies was named the Intacct Partner of the Month.
MSI Technologies is honored to be recognized for their part in the rapidly expanding cloud accounting and financial management industry.
MSI Technologies offers:

Intacct Implementations in NJ, NY, PA & CT
Intacct customizations tailor made to fit any company's business needs
Intacct support and training
Custom development and programming for cloud accounting systems
Mid sized companies who have outgrown Quickbooks will discover a cloud-based accounting system like Intacct is a great solution. MSI Technologies also offers and supports on-premise ERP systems like Sage 300 ERP.
For 2014, MSI Technologies will provide additional Intacct resources for its clients and prospects. The company's website and blog will offer webinars and Intacct white papers for download. An industry based knowledge bank will be available soon on the company's blog.
Cloud Accounting and Cloud ERP related tips, case studies, ebooks and whitepapers will be shared on social media channels and email newsletters.
About MSI Technologies:
MSI Technologies is a business IT solutions provider, helping medium-sized businesses implement and support cost-effective cloud and on premise ERP, CRM, Financial software and managed IT solutions. With more than 25 years of experience, MSI Technologies focuses on Intacct and Sage 300 ERP software implementations in New Jersey, New York, Pennsylvania and Connecticut. For more information on our Intacct services, visit our website at http://msitechnologies.com or call us at (800) 525-0052.