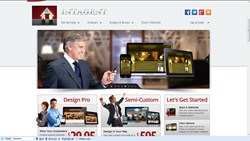 Using our sophisticated client relationship management software you can add information on the fly. Our technical ability makes keeping and managing contacts a breeze
Ann Arbor, Michigan (PRWEB) October 11, 2013
Intagent has announced introduction of mobile real estate websites, each version specifically designed to give the users the best experience possible. Full branded version of the websites will look as impressive on the mobile screen as it does on a desktop or laptop. The mobile real estate websites will give their clients a cutting edge over the competitors.
"Even the administrators will be able to work on the backend of the website on their mobiles. You will be able to access your listings, leads and work on contact details. Using our sophisticated client relationship management software you can add information on the fly. Our technical ability makes keeping and managing contacts a breeze," commented a senior executive with the company.
There are a large number of people that use their mobiles to access websites. The mobile website solution provided by Intagent puts the website and the listings in the buyers' hands. Advanced mobile solution has integrated account login between desktop and smartphone, and ways to get the needed information quickly. The mobile website will put the MLS at the buyers' fingertips. The users can easily save favorite listings and searches.
Thanks to an array of innovative templates, real estate brokers now enjoy the convenience of industry-specific layouts that will now be available on mobile. As the executive said, "These templates cater to the design trend of real estate websites. Appealing designs capture the attention of the viewers, while easy navigation keeps them engaged."
Design Pro property web design package of Intagent enables clients to customize the interface. Brokers opting for Design Pro can upload images of each listing, provide the option of virtual tours to the visitors and upload additional information as well. The system enables the brokers to easily collect and manage the potential customers. With the realtor website going mobile, clients can realistically expect to increase leads substantially.
About the Company
Based in Michigan, Intagent is counted among the top real estate website design companies in America. They develop robust property website design tailored to the unique requirements of clients, providing them with innovative web design solutions. With expertise in real estate website designing, Intagent helps clients stand out among competitors.
Contact Information
Intagent
3737 Bradford Sq. Dr.
Ann Arbor, Michigan 48103
Phone: (800) 209-0740
Website: http://www.intagent.com/