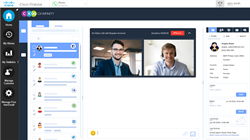 BETHESDA, Md. (PRWEB) July 20, 2021
Understanding and analyzing the drift in customers' preferences and expectations from businesses, CXInfinity – the new digital omnichannel customer engagement platform – launched Video chat for Cisco Finesse contact centers. The solution is a leap over text chats. It is sure to leverage the power of contact centers with real-time, face-to-face interaction with customers. CXInfinity believes Video chat improves CX for every industry. Again, living up to the concept of unified view, CXInfinity has the video chat too embedded within the existing Cisco interface, leaving no scope for screen switching.
CXInfinity is a robust solution with a unified console for agents to switch channels over a single screen without losing conversation context at any point in time. Customers can switch from a webchat to video chat to WhatsApp conversation, email, etc., in real-time. The company guarantees higher customer engagement leading to a seamless CX.
The integration of Cisco with Video Chat and other digital channels offers benefits such as,

Instant transition – Quickly switch a conversation to video chat from text chats for faster resolution and live interactions.
Face-to-face interaction – In-person personalized assistance for a more substantial connection—visual guidance of product walkthroughs, video KYC, and more.
Across channel compatibility – No need for a 3rd party application download. The integrated video chat solution allows agents to start video across channels.
Context sustained – Additionally, an agent can anytime switch back to text or co-browsing or share documents.
Blended tool – The video chat interface is embedded within Finesse. No special training or workflow for agents to focus on.
3rd party integrations – Seamless integrations for personalized interaction with customer details and interaction history displayed on agent screen.
Amit Gandhi, CEO CXInfinity and NovelVox, says, "No contact center solution is perfect for all time. With the evolving customer expectations, we need to advance our solutions too. Today, CX does not mean replying to customer queries but connecting with customers for a more extended period. Businesses must make customers feel valued instead of just a number. Video chat for Cisco from CXInfinity is one such initiative that functions on the concept of creating emotional connect. Now businesses can offer personalized conversation across channels in real-time and from a single console. The face-to-­­face interactions that will increase the resolution rate and reduce handle time. It is a solution that built a stronger relationship between customers and business.
About CXInfinity
CXInfinity is the business messaging and customer engagement platform to connect with the customer at the right time over the right channel. It's an integrated and optimized solution that speaks of trust and technology carried for 11 years with NovelVox in the contact center industry. With 98.7% of customer retention and over 70 3rd party integration, NovelVox has launched CXInfinity that offers infinite scalable and flexible solutions for instant customer support, sales, and marketing over a unified console allowing a switch between channels but not screen/applications. CXInfinity solution caters to businesses of all sizes, including Enterprises and verticals.