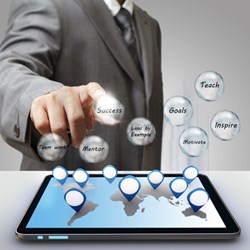 For owners of small practices or those who have wildly fluctuating patient numbers, a six-figure income isn't impossible to achieve especially if the practitioners decided to use an automated system like an EMR.
Denville, NJ (PRWEB) September 04, 2013
"It is more important at the very beginning to define your goals to eliminate unfortunate surprises down the road," said Chhoda. "An EMR system automates low-value tasks that eat up time and effort, allowing clinicians to concentrate on high-value tasks that generate income so as to sustain the practice. With an automated system like an EMR, a six-figure income isn't impossible to achieve even for small practices owners or those who have wildly fluctuating patient numbers, "
An integrated EMR designed specifically for a physical therapy clinic reaches into every facet of the practice -- from the first patient contact to sending reimbursement claims. It provides information that practitioners can use to develop and execute marketing campaigns, determine staffing requirements, and collect online payments.
Electronic medical records offer built-in tools to track and monitor income sources, services that generate the most funds, and locate low-value tasks that can be delegated. Clinic owners can easily track income trends throughout any given year, allowing them to organize major marketing efforts and events for ebbs in earnings.
Chhoda added that clinicians must be ruthless in their pursuit of profitability and success, and an EMR facilitates those efforts by automating and streamlining staffing, reimbursements, services and collections.
This new information provides valuable insight for clinicians about the power and abilities of an EMR. The integrated systems offer physical therapy management tools that can be used to boost revenues, increase collections, entice new patients to the business, and plan for potential lean times. A six-digit income is within reach of small practices when they implement a system and unleash the possibilities and promise available within an EMR.
Chhoda's office can be reached by phone at 201-535-4475. For more information, visit the website at http://www.emrnews.com.
About Nitin Chhoda
Nitin Chhoda PT, DPT is a licensed physical therapist, a certified strength and conditioning specialist and an entrepreneur. He is the author of "Physical Therapy Marketing For The New Economy" and "Marketing for Physical Therapy Clinics" and is a prolific speaker, writer and creator of products and systems to streamline medical billing and coding, electronic medical records, health care practice management and marketing to increase referrals. He has been featured in numerous industry magazines, major radio and broadcast media, and is the founder of Referral Ignition training systems and the annual Private Practice Summit. Chhoda speaks extensively throughout the U.S., Canada and Asia. He is also the creator of the Therapy Newsletter and Clinical Contact, both web-based services to help private practices improve communication with patients, delivery better quality of care and boost patient retention.