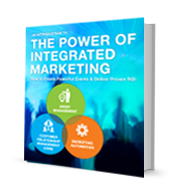 The way forward is to apply marketing data, tools, and analytics across the entire spectrum of marketing—from online marketing to events.
San Francisco, CA (PRWEB) September 23, 2013
Leading event management software company, Certain, Inc., announces the launch of its latest e-book, "The Power of Integrated Marketing." The complimentary e-book offers tips for creating events that deliver measurable ROI. It shows marketers and event professionals how event management, marketing automation, and customer relationship management (CRM) platforms work together to drive revenue, accelerate pipeline velocity, and increase customer loyalty.
The e-book was created to help marketers and event professionals understand how to leverage and measure events in the same way as other marketing channels. Certain's integration with marketing automation and CRM allows marketers to better understand their event attendees, deliver personalized event experiences, and identify steps to move attendees more quickly along the buying cycle.
In the e-book, Certain answers the questions, "What does today's CMO expect from events and how can marketing deliver?" By acknowledging the fact that CMOs view events as revenue-driving opportunities, readers will recognize the importance of tying the impact of events back to sales and revenue in order to measure ROI. The way forward is to apply marketing data, tools, and analytics across the entire spectrum of marketing—from online marketing to events.
Marketers and event professionals will discover how to take their events and their entire marketing program to the next level by integrating event management technology with existing marketing automation and CRM platforms.
To download a complimentary copy of the e-book visit http://bit.ly/integrated-mktg.
About Certain: Powering Connections, Accelerating Business
Certain provides a complete enterprise event management platform that powers personalized event experiences and enables meaningful connections to accelerate business. Used by the largest corporations, meeting management companies and event producers worldwide, the Certain platform enables attendee management, event branding, social and mobile participation, and 1-to-1 meetings that engage audiences and maximize event value for all participants. With Certain's proven SaaS-based technology, cross-functional event teams collaborate, streamline processes, and reduce costs to execute flawless events with operational excellence. To maximize the business impact, the Certain platform integrates easily with marketing automation and enterprise systems to deliver rich customer insights as well as event intelligence.
Headquartered in San Francisco, Certain has operations and sales offices in North America, Europe and the Pacific Rim. For more information please visit http://www.certain.com.