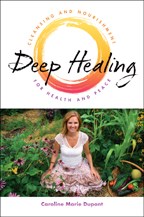 Deep healing is an invitation to see and accept the world as it is.
Summertown, TN (PRWEB) January 28, 2014
Both profound physical healing and one's dreams can be realized through the same formula. True health extends to all aspects of life as shown in Deep Healing: Cleansing and Nourishment for Health and Peace by Caroline Dupont.
Through first-hand experience and her work with clients and students, Caroline has seen undeniable evidence of the body's ability to not only prevent disease but heal itself. She states "deep healing is an invitation to see and accept the world as it is." Peace of mind and spirit is the key to being able to reach optimum health.
Step one is taking responsibility for one's emotional well-being and spiritual growth. Energy awareness and meditation are two methods that allow access to inner wisdom and recognition of more subtle energy sensations that convey internal messages. A certified meditation instructor, Caroline guides readers through a deep healing meditation that enables them to listen to their bodies.
Other areas are explored that accentuate and accelerate one's physical and spiritual evolution such as the benefits to adopting a whole-foods, plant-based diet; juice fasts and other cleansing practices that detoxify the body; and how to make peace with food. Additional healing fundamentals include clean air and water, exposure to nature and sunshine, and ample rest–as well as community connection, prayer, gratitude, and creative expression. Each topic illuminates Caroline's knowledge as an energy worker and nutritionist. More information can be found at carolinedupont.com.
Book Publishing Company—whose genre are books on plant-based nutrition and cuisine and healthy living—first became involved with Caroline as an author when they acquired the rights to Alive Books publications in Canada. Their first collaboration was a revised cookbook, The New Enlightened Eating (2012).
Deep Healing—inspiring, reassuring and at times surprisingly simple—shows readers how to implement practices and personal choices that will have lasting positive impacts on their lives.
Editors desiring a closer look at this title can use this link to request a review copy.