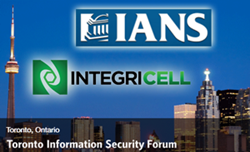 IANS and their infosec Forums are bringing much-needed awareness to how dangerous intellectual property theft has become...The IP dollar losses are staggering.
Washington, DC (PRWEB) August 01, 2013
IntegriCell Group, Inc., a recognized global leader in mobile security products and consulting services, today announced that CEO and founder Aaron Turner will be a featured speaker and educational track moderator at the IANS Toronto Information Security Forum, slated for August 19-20. The Forum will take place at the King Edward Hotel and will bring together experienced IT and information security practitioners for information sharing, continuing IT security education, and networking.
Turner, an IANS Faculty member, will moderate an educational track on Information Protection, one of today's hottest market trends fueled by recent NSA and Edward Snowden headlines regarding mobile device intrusion. These headlines, paired with the proliferation of BYOD (bring your own device) into IT network environments are forcing corporate leaders to re-engineer policies and procedures for managing the protection of intellectual property. Turner's educational track will explore four paradigms emanating from the information protection wave:

The relationship between compliance and IT security
Maintaining business services during denial of service attacks
Mobile security deficiencies
Mobile security acronym soup: What really works?
"IANS and their infosec Forums are bringing much-needed awareness to how dangerous intellectual property theft has become," Turner said. "The IP dollar losses are staggering, in the billions for some companies alone," he added. "Slowly but surely we are making corporate leaders aware of the seriousness of this issue, and IntegriCell's partnership with IANS is a big part of that."
The IANS Toronto Information Security Forum will feature keynote addresses, as well as technical and strategic roundtable discussions. All educational tracks are led by IANS' faculty, comprised of leading industry subject matter experts with executive backgrounds at high-profile brands such as Microsoft, Verizon, BlackBerry, Bank of America, The Boeing Company, 451 Research consulting, and the Idaho National Laboratory testing facility.
*About IntegriCell
IntegriCell delivers mobile security solutions and consulting services that provide insight to advanced persistent threats (APTs) that impact enterprise organizations, government agencies and end-user consumers. IntegriCell's featured mobile security products are KeyLime, a universal hardware device for mobile security, and SyncDog, a software solution that correlates phone message logs to reveal patterns of user behavior indicative of cyber threat. The roots of IntegriCell date back to the early days of information security at Microsoft where IntegriCell founder Aaron Turner served as security strategist. Turner eventually landed in research and development at the U.S. Department of Energy's Idaho National Laboratory, where significant research into cross-domain cyber security vulnerabilities has been conducted for more than a decade.
Originally a services company, IntegriCell's professional services offerings are designed to be accelerated knowledge-transfer engagements targeting enterprise risk managers, network operators, infrastructure managers, government entities and law enforcement. For more information on IntegriCell, please visit http://integricell.com.
*About IANS
IANS is the leading provider of in-depth security insights and decision support delivered through research, community, and consulting. Fueled by interactions among IANS Faculty and end users, IANS' experience-driven advice helps information security, risk management, and compliance executives make better, faster technical and managerial decisions. For more information on IANS, please visit http://iansresearch.com.