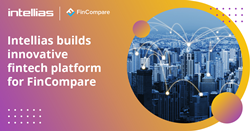 BERLIN & LONDON (PRWEB) February 07, 2023
Intellias, a global technology partner to Fortune 500 enterprises, has announced its role in supporting Germany-based FinCompare, a financing platform for SMEs, with its full-cycle development of Software-as-a-Service market network and subsequent financing from Volksbanken Berlin. Intellias managed the project's delivery model to offer a one-place system for banking needs in which users can fill in data, send documents for recognitions, and then go to the final advisor to decide whether an applicant's loans continue.
Launched in 2017, FinCompare allows corporate customers to find, compare, and, in some cases, complete a full range of financing options, including loans, leasing, factoring, and purchase financing from more than 200 banks, alternative financing service providers, and promotional banks.
In 2022, Intellias supported FinCompare with the running of the delivery model to alleviate pressures with running the project. This included occupying all the leading positions on the project, with Intellias experts taking charge of the delivery process, which involved forming teams, overseeing workflows, reworking existing functionalities, developing new features, and integrating the product with over 50 third-party services. This project resulted in Intellias facilitating communication between FinCompare and Volksbanken Berlin, to identify and implement a financing opportunity.
FinCompare initially sought support as its team was relatively small, requiring a fast-paced scale-up to overcome the anticipated hurdles. As well as this, there were prior industry challenges of having multiple landing platforms with different regulatory requirements indicating the need for a more consolidated approach to financial management.
To support this large-scale enterprise project, Intellias was needed to aid in the development of a Market Network Platform, providing a convenient system for digital SME financing. Some of the distinctive components of the product developed include:

Personal profiles for entrepreneurs and bank representatives.
A system that connects applicants with relevant products.
Indicators service that estimates financial KPIs for applicants.
FI-automation service for automated integration with financial institutions.
Custom open API connector to streamline the integration with banks.
As a result of cooperation, FinCompare acquired a market-ready product and received outstanding financing from leading European banking to grow. The aforementioned cooperation and financing resulted in stability in release cycles providing FinCompare with a consolidated platform to utilise within future roadmaps for clients across the industry.
"We experienced a great balance of stamina, skills, and smartness in the team members that brought us the stability in delivery that we had been lacking in the past," said Christoph Strasen, FinCompare CTO.
"Thanks to the innovative approach to management from both the Intellias and FinCompare teams, a newly managed delivery model enabled the creation of a consolidated platform, providing a convenient one-stop destination for customers," commented Andriy Kusen, Delivery Manager at Intellias.
About Intellias
Intellias is a global technology partner to Fortune 500 enterprises and top-tier organisations, helping them accelerate their pace of sustainable digitalisation. Intellias empowers businesses operating in Europe and the US, as well as the MENA and APAC regions, to embrace innovation at scale. The company has been featured in the Global Outsourcing 100 list by IAOP, recognised by Inc. 5000, and acknowledged in Forbes and the GSA UK Awards. With two decades of experience, Intellias is geared towards ensuring the sustained success of clients on their value journey.
About FinCompare
FinCompare is the developer of an online financial platform designed to find, compare and close SME financing (leasing, credit, factoring and others) for a multitude of purposes. The company's platform offers opportunities for comparison in the non-transport financing market to facilitate corporate financing, enabling small and medium-sized enterprises to seek and borrow loans from reliable lenders and generate profits through careful risk analysis and mitigation.