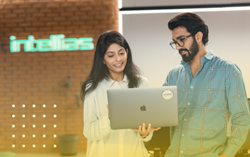 PUNE, India (PRWEB) February 15, 2023
Intellias, a Forbes-ranked IT employer and a technology enabler to Fortune 500 organizations, is setting up a new development center in Pune, India in addition to its Asian offices in the UAE and Saudi Arabia to expand the company's regional capabilities.
Indian IT experts will join the global Intellias team of more than 3200 professionals, with 60% of senior-level engineers. In 2023, Intellias plans to hire about 100 IT professionals in India who specialize in Java, Scala, .Net, C++, and other technologies.
The engineers will have an opportunity to work on solutions for mobility, telecom & media, financial services, and retail. Intellias is contributing to the success of the world's leading brands, including HERE Technologies, LG, Siemens, Swissquote Bank, KIA, TomTom, HelloFresh, Xerox PARC, and Deloitte.
"At Intellias, our talented engineers are a team united by deep industry expertise and shared corporate culture – the key factors for building groundbreaking IT products. Entering the Indian market is an important step in Intellias' globalization strategy. Having a development center in one of India's largest IT hubs will enable the company's further growth. We invite Indian developers to join our team and grow together with us," comments Vitaly Sedler, CEO and co-founder of Intellias
Intellias is known for its corporate culture and comfortable work environment. The company's values, goals, and day-to-day operations are based on the principles of support, respect, and empathy, which compose a human-first culture. In 2020 and 2021, the company was named the best IT employer by Forbes and EY Ukraine.
"Becoming a part of Intellias, Indian IT professionals will have excellent opportunities for professional development thanks to our culture of partnership. The human-to-human principle, which we follow in our team, allows new specialists to experience a quality level of interaction with the company," says Tabish Shaikh, Country Head of Intellias India
Intellias offers its specialists an opportunity to manage their careers using an internal corporate Career Hub. In just one click, the platform gives access to all professional and career options. The company creates a comfortable environment with flexible working hours and an opportunity to work from home, from the office, or both.
Furthermore, Intellias implements the principles of the UN Global Compact, encouraging and developing corporate social responsibility. As a technology company, Intellias has strong automotive expertise and has a special focus on ecomobility within its CSR strategy.. The company has also adopted the UN Women's Empowerment Principles (WEPs) and actively implements them in its daily work. In November 2021, Intellias launched the IntelliWomen Community, a communication platform for female professionals to foster personal and professional growth.
About Intellias   
Intellias is a global technology partner to Fortune 500 enterprises and digital innovators, helping them accelerate their pace of sustainable digitalization. Intellias empowers businesses operating in Europe, North America, the MENA region, and the APAC region to embrace innovation at scale. The company has been featured in the Global Outsourcing 100 list by IAOP, recognized by Inc. 5000, and acknowledged in Forbes and in the GSA UK Awards. With two decades of experience, Intellias is geared towards ensuring the sustained success of clients on their value journey.