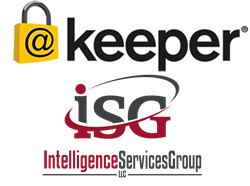 CHICAGO, New Jersey, and Florida (PRWEB) September 13, 2018
iSG is excited to expand its cybersecurity portfolio by offering Keeper Security software solutions. Keeper is transforming the way organizations and individuals protect their passwords and sensitive digital assets to significantly reduce cyber theft.
Keeper Security, Inc., the creator of Keeper®, the world's leading cybersecurity platform for protecting passwords and private information. Keeper uses a zero-knowledge security architecture and advanced encryption technology to store and secure an organization's passwords and sensitive information covering notes, lists, codes, SSH keys, digital certificates, documents, photos and videos. Keeper is used by millions of people and thousands of businesses globally to protect their passwords and person information. Keeper's cybersecurity platform operates in cloud and hybrid-cloud environments to protect passwords and client information on all endpoints of the organization.
81% of all data breaches are due to weak passwords and poor password security. Because passwords are a pervasive pain-point for organizations and the greatest risk for a data breach, Keeper was designed to protect businesses of all sizes across every major industry sector. Keeper creates high-strength, random passwords for all websites and applications used by the business. It integrates with Single-Sign On (SSO) solutions and can also be provisioned through Active Directory (AD), LDAP and Azure AD/SCIM among many other methods. Management get instant visibility over their organization's password security levels, enforce password policies and monitor password compliance with Keeper's dashboards, reporting, auditing and notifications. Teams of all sizes can securely share records, folders and files. Additionally, Keeper securely manages the lifecycle of privileged account credentials with role-based permissions and controlled credential sharing.
"We're very excited about our new partnership with iSG, a fantastic security-focused value added reseller," says Darren Guccione, CEO & Co-Founder of Keeper Security. "iSG is a leader in helping organizations bolster their cybersecurity with best-in-class software solutions. We look forward to working with iSG to educate the public and private sector about critical password security and helping architect solutions to protect their enterprises against a password-related data breach."
"As iSG continues its' expansion we constantly look for ways to help our clients enhance and improve their risk management. Keeper's zero-knowledge architecture, digital vault and SOC2 certification make them the leader for enterprise password management. This partnership with Keeper Security will give us the ability to offer our clients a holistic enterprise level solution to address access management," says Bob Henderson, Founder | CEO of iSG.
About Keeper
Keeper Security, Inc. ("Keeper") is transforming the way organizations and individuals protect their passwords and sensitive digital assets to significantly reduce cyber theft. Keeper is the leading provider of zero-knowledge security and encryption software covering password management, cybersecurity, digital file storage and messaging. Keeper is trusted by millions of people and thousands of businesses to protect their digital assets and help mitigate the risk of a data breach. Keeper is SOC-2 Certified and is also certified for use by the Federal government through the System for Award Management (SAM) and the General Services Administration (GSA). Keeper protects businesses of all sizes across every major industry sector. Learn more at https://keepersecurity.com and https://keeperchat.com.
About iSG
iSG was developed by founder Bob Henderson. His unique background in law enforcement/ intelligence/security and IT led Bob to create a firm incorporating these elements to provide a unique risk management capability. He understood the sea change occurring in the market that traditional IT approaches to security were no longer enough to address.
The iSG team is comprised of intelligence executives from the international (Interpol), federal, state and local intelligence/law enforcement communities. We fused our expertise with the best in breed technology tools covering intelligence/investigations, digital forensics, data security and data encryption across the enterprise.
Intelligence Services Group, LLC (http://www.iservicesgrp.com) is based in Morganville, NJ and Lake Mary, FL and can be reached at 833-623-3092, info(at)iservicesgrp.com
Keeper Security (https://www.keepersecurity.com) is based in Chicago, IL and can be reached at 312-829-2680, https://keepersecurity.com/contact.html