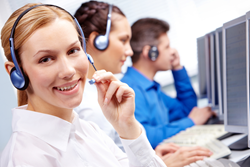 Poor communications skills and the inability to deviate from the script are the most common frustrations consumers have with call-center agents.
San Francisco, CA (PRWEB) July 29, 2014
Intelligent Office, the leading provider of communications and virtual office solutions in North America, announces new "concierge-style" call-center-type services to help San Francisco Bay Area businesses and organizations provide an excellent sales and customer service experience to their customers. Intelligent Office's virtual assistants can support a company or organization's sales, order fulfillment, customer service, and customer relationship management (CRM) strategies.
According to a survey by Art Technology Group, "A live voice is still the most preferred form of customer service among online Americans." However, "poor communications skills and the inability to deviate from the script are the most common frustrations consumers have with call-center agents," as reported in a survey by Aurix, a subsidiary of Avaya. This problem is exacerbated by offshore call centers, as explained by NPR: "American customers say they have more trouble getting inquiries resolved efficiently when they're routed to call centers outside the U.S." Furthermore, there is the inconvenience and "pain-in-the-neck factor" of having a distant operation.
Lower resolution rates mean lower customer satisfaction, longer call duration, multiple customer contacts, greater customer attrition, and potential brand damage, which can be costly to a business. "Our locally-based agents, who are professionally trained to provide 'concierge-style' service, can greatly elevate customer service and sales levels," says Wilson Tandiono, Director of Intelligent Office San Francisco. "They can empathize and build better rapport with callers, which can increase resolution and sales conversion rates. Our clients can meet and train them, allowing for better communications and essentially flattening the learning curve. We are not your traditional call center as we offer a premier level of service."
Intelligent Office San Francisco prides itself not only on its rigorous selection and training of agents but also on its thorough implementation process. A dedicated account manager will oversee critical steps, such as an extensive needs assessment, design specifications, business process optimization, technology integration, and transition planning, to ensure a successful implementation. Intelligent Office's ongoing support, training, and quality assurance programs are geared towards continuous improvement and achieving high customer satisfaction for its clients. Agents will be perceived as valuable members of the client's staff who contribute towards the client's vision.
Intelligent Office San Francisco's robust call-center capabilities include inbound sales, customer service, call routing, dispatching, scheduling, registration, and more. Its technology platform, a cloud-based architecture that uses VOIP and advanced telephone and computer integration, allows it to seamlessly handle high call volumes and complex call procedures.
For more information on partial or complete outsourcing, one-time calling campaigns, overflow support, or part-time coverage, please call 415-745-3300 or visit: http://www.intelligentoffice.com/locations/california/san-francisco/san-francisco/call-center.aspx.
About Intelligent Office:
Intelligent Office is the leading virtual office service provider for mobile executives and small businesses in North America. The company is headquartered in Denver, Colo., and has over 50 locations in North America. Intelligent Office helps clients grow their businesses and work smarter by combining professional staffing with the physical and technological infrastructure of a virtual office. Intelligent Office's executive office suite, shared office, coworking, conference room rental, call center and virtual receptionist solutions provide support for entrepreneurs, mobile executives, professional services firms, medical offices, independent contractors, satellite offices, non-profits, and small and home-based businesses. Virtual office services help businesses save on overhead costs and gain flexibility while projecting a professional presence. Intelligent Office's à la carte services can scale with a business's needs and budget, and its cost-effective plans are great for any phase of business – whether starting out, growing, running an established business, downsizing, or branching out to a new territory. For more information on services, go to: http://www.intelligentoffice.com/california/san-francisco/.