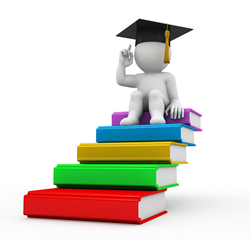 Intelligent Tutoring systems have been shown to be effective in promoting individual learning
Columbia, MD (PRWEB) December 29, 2014
Since 2002, SIMmersion® has been using PeopleSim® technology to create virtual reality simulations of people in a wide range of difficult interpersonal situations, such as suicide interventions, criminal investigations, performance evaluations, sales calls and more. The one constant across SIMmersion's product line has been that the training always involves a conversation with a simulated character on screen. Now, the company has broken ground by using its advanced software and authoring tools to create a completely different training product: an intelligent tutor, which is a computerized coach that supports users as they learn.
The Intelligent Tutor
The U.S. Government recognizes that one-to-one training is significantly more effective than the one-on-many classroom model commonly used for training. However, one-on-one training is rarely practical. The Army states that "An alternative to one-to-one human tutoring is one-to-one computer-based tutoring using Intelligent Tutoring Systems, which have been shown to be effective in promoting individual learning in static, simple, well-defined domains." The Army Research Laboratory has been working on developing this important style of training. The training can take many forms, depending on the target audience and the topic. It plays a valuable role bridging the gap between traditional classroom learning and computer-based learning.
The PeopleSim® Virtual Reality Technology
In SIMmersion's conversational systems, the PeopleSim® technology combines unique non-branching logic and a simulated emotional model to replicate unpredictable on-screen characters with all the complexities of real behavior. To generalize the learning, essential characteristics of virtual characters, such as personalities and motivations, change each time the system is used. The virtual characters have memory and can logically respond to users based on unique combinations of previous user statements or actions. The characters have simulated emotions and may even react differently to different kinds of users (e.g. men versus women). Optional speech controls make the training experience as close to a real conversation as possible.
Intelligent Tutor Developed with PeopleSim®
Many of the PeopleSim® features, supported by powerful authoring tools, are ideally suited to the needs of intelligent tutor systems. SIMmersion's prototype intelligent tutor shows the validity of using PeopleSim® to rapidly develop this style of system. For this proof-of-concept application, the user's goal is to follow a procedure involving a series of steps. In each step, there are a number of incorrect choices, a choice that is the best fit, and a choice that is correct but less than optimal. At any time, the user can ask for a hint or for more detailed help. This generic structure serves as a surrogate for many applications, such as solving an algebraic equation, assembling an engine, or following a medical protocol.
For this prototype, the tutor is a warm and friendly on-screen character who wants the user to remember and repeat a string of letters one at a time. The user selects the length of the string or level of difficulty. Users can ask the tutor for help whenever they feel they need it. The quality of the user's work is reviewed and feedback is provided by the tutor at every step or whenever appropriate. For the prototype application, the quality of the user's memory of the sequence is summarized and scored after the assignment is completed.
Other features like the emotional model could be used to monitor the user's skill. This capability will prove valuable for more complex applications, perhaps adaptively changing the level of difficulty as the user's performance improves or degrades during a training session. Different character versions could be used to support different learning styles or languages.
Other Applications of PeopleSim®
In addition to the intelligent tutor, the PeopleSim® technology can be used to create games that could be played repeatedly and provide unexpected experiences each time, and for training in situations when events are unpredictable such as a war game or a business management game.
"We're excited about the new possibilities this innovative prototype opens for us and our clients in 2015," says Dale Olsen, PhD, President of SIMmersion.
About SIMmersion
SIMmersion's mission is to train communication skills faster and more effectively by combining the world's most realistic simulated experiences with highly interactive training content and extensive user feedback. For more information, contact SIMmersion online or at 443-283-2555.