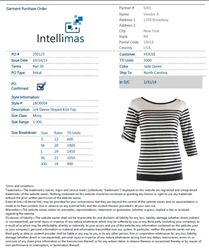 ...our experience is that the best reports are created several months after go-live...
Summit, N.J. (PRWEB) March 12, 2015
Singletree Technologies, an innovative supplier of software to Retail and Wholesale companies, has announced the release of its new software product called Intellimas® Reporting, a business intelligence tool that takes the mystery out of report development. Intellimas® Reporting comes with predefined connections to several popular PLM systems which make it much easier to create reports. Its drag and drop interface will allow both power users and IT staff to develop a variety of output that will immediately improve any implementation.
Intellimas® Reporting follows in the tradition of Intellimas®, a grid based application that provides a supreme user experience, by filling the inevitable gaps of any implementation. Companies have used Intellimas® to extend their PLM and SCM Software to manage business functions such as Comprehensive Product Costing, Sample Tracking, PO generation, Work in Process Tracking, Material Testing, and Vendor Compliance.
Shane Walters, CTO of Singletree Technologies said, "Intellimas® has proven to shorten the implementation of new business requirements that frequently appear in every implementation. Intellimas® Reporting continues this trend by putting the reporting responsibilities into the hands of the application administrator. This frees IT to work on other priorities and shortens the report design and maintenance life cycle considerably."
"Reports tend to be the last requirement addressed in a software implementation", said Vincent Candela, President of Singletree Technologies. "And our experience is that the best reports are created several months post go-live, after the business team has had a chance to gain solid experience in the system. Intellimas® Reporting can become a cornerstone of any company's reporting strategy during, and especially after, go-live."
About Singletree Technologies
Founded in 2001, Singletree Technologies, LLC is a software and consulting company that focuses its efforts on streamlining the business processes of Retail and Wholesale companies. Their applications are always created with usability and flexibility in mind. Learn more about Singletree at http://www.singletreetech.com.