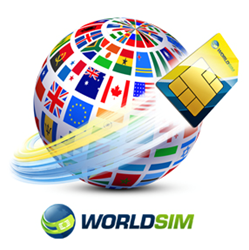 Technology plays a massive part in our lives and whether for business or pleasure so it's essential that everyone can stay connected for less wherever they are travelling in the world
London (PRWEB UK) 1 July 2014
1 in 6 people get hit with an international roaming bill when they return from their holiday; such roaming bills have been known to reach as much as £250,000. Since 2007, the EU Commission has been working with network operators to their roaming fees by as much as 80-90% and from 1st July, the EU Commission will be enforcing cheaper rates for international roaming amongst Europeans. These new lower rates will only benefit anyone that is a European resident.
The new EU standard call rates within Europe have now decreased from 23p per minute to 19p per minute, the cost of receiving a call has dropped 7p per minute to 5p per minute. Sending a text did cost 8p but is now 6p and 1MB of data has dropped from 43p per MB to 20p per MB*.
Global mobile network operator, WorldSIM, have gone beyond this and dropped rates up to 25% further; 15p per minute to make within Europe, data at 15p per MB and text messages at a mere 5p. In addition to this, users of the WorldSIM prepaid travel SIM card will get free incoming calls in Europe as well as many other countries across the globe.
Arif Reza, WorldSIM CEO, shared "Our plan is to make roaming affordable worldwide, we offer free incoming calls in over 90 countries and we are adding more to this all the time. In addition we have managed to secure data roaming rates that are as much as 85% lower than the costs of using other SIM cards, in over 135 countries. Technology plays a massive part in our lives and whether for business or pleasure so it's essential that everyone can stay connected for less wherever they are travelling in the world."
Those living or travelling outside of Europe are still likely to face extortionate roaming fees if using their regular SIM card, rather than a roaming SIM card. In order to combat this it's best to turn off data roaming and automatic updates while travelling and ensure your travel apps don't require data in order to function. Find out more about your data consumption.
*All prices are inclusive of VAT. Prices have been changed to GBP from Euros using xe.com on 30th July 2014 and rounded to the nearest penny.
About WorldSIM:
WorldSIM, known for their innovation, specialise in travel accessories that reduce the cost of staying connected while travelling internationally and have a range of products to make travelling easier. For more information, please visit http://www.worldsim.com.