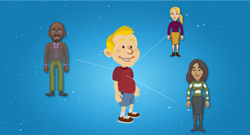 We're passionate about getting onTRAC LDS into the hands of educators everywhere so we can help make a difference in students' lives by providing tools to support a personalized instructional experience that helps all students grow.
WASHINGTON, D.C. (PRWEB) April 07, 2015
Interactive Achievement, creators of onTRAC software, today announced that onTRAC LDS was named a finalist for the 2014 SIIA Education CODiE Awards for Best K-12 Enterprise Solution. The SIIA CODiE Awards are the premier awards for the software and information industries and have been recognizing product excellence for 29 years. The awards have over 85 categories and are organized by industry focus of Content, Education, and Software.
This year's program features 28 Education categories, several of which are new or updated to reflect the latest industry trends and business models. New this year, top awards in three overall Education categories will also be presented. Overall categories include Best PK-12 Solution, Best Postsecondary Solution, and Best Education Solution. All winners will be announced during a special awards dinner at the nation's leading education technology conference, the Education Industry Summit, in San Francisco on May 5. The announcement will also be live streamed.
The onTRAC Longitudinal Data System places essential data in administrators' and teachers' hands to provide a personalized learning plan for every student. Tools like intervention tracking, behavior and attendance monitoring, and easy analysis of assessment data are the core of the LDS module. Every stakeholder involved (district, school and teacher) gets a full 360 degree view of student progress to ensure that all students have the greatest chance to succeed. Colorful and easy-to-interpret data visualizations of assessment data replace spreadsheets, seamlessly converting raw state data into interactive, high-impact reports for educators to provide insights and identify trends into student learning outcomes.
"We truly believe this product can revolutionize the way educators serve their students. We're passionate about getting onTRAC LDS into the hands of educators and administrators everywhere so we can help make a difference in every school we serve by providing the tools to support a personalized instructional experience that helps all students grow. We're very grateful for this honorable recognition," shared Jonathan Hagmaier, CEO of Interactive Achievement.
"This year's finalists are breaking ground with new business models and innovative products. We are pleased to recognize the best in educational technology with these 157 products," said Karen Billings, vice president of the SIIA Education Technology Industry Network. "I look forward to honoring them all in May at the Education Industry Summit."
Details about each finalist are listed at siia.net/codies/2015/finalists.asp.
About Interactive Achievement
Interactive Achievement (IA) creates onTRAC, an award-winning standards-based instructional improvement program for school districts in the U.S. IA was founded in 2006 by educators in response to the need for better assessment and reporting tools that enable both students and teachers to achieve success. As a result, IA's team is comprised of educators who create products that assist their peers in education in making data-driven decisions in the effort to raise student achievement in all academic areas. For more information, visit http://www.interactiveachievement.com.
About SIIA
SIIA is the leading association representing the software and digital content industries. SIIA represents approximately 800 member companies worldwide that develop software and digital information content. SIIA provides global services in government relations, business development, corporate education and intellectual property protection to the leading companies that are setting the pace for the digital age. For more information, visit http://www.siia.net. The Education Technology Industry Network (ETIN) of SIIA serves and represents more than 200 member companies that provide educational software applications, digital content, online learning services and related technologies across the K-20 sector. The Division shapes and supports the industry by providing leadership, advocacy, business development opportunities and critical market information. For more information on ETIN of SIIA, visit siia.net/etin.