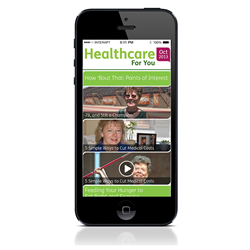 Louisville, KY (PRWEB) August 29, 2014
Interapt and Creative Alliance have partnered with Humana to release the Humana Healthcare For You mobile app. It can be found in the App Store for iOS devices and Google Play for Android devices. The app is available to download for free.
This project brought together organizations from the healthcare, marketing, and technology sectors in Louisville, KY--where Humana, Creative Alliance, and Interapt are all based--to collaborate and provide a service to Humana's millions of policyholders.
The Humana Healthcare For You app delivers Humana's Healthcare For You monthly e-newsletter in a native mobile format, providing health news, fitness tips, recipe ideas, and more. The app also guides users through new healthcare reform laws and how they affect an individual's options for coverage.
Users are also able to access past issues of the publication through the app, and search for specific content using the app's search function.
Desktop users can access related content on Humana's website: https://www.humana.com/health-care-reform/
Download free for iOS: https://itunes.apple.com/us/app/humana-healthcare-for-you/id885851769?mt=8
Download free for Android: https://play.google.com/store/apps/details?id=com.humana.healthcareforyou&hl=en
About INTERAPT:
Interapt is a high-tech mobile development and mobile strategy firm dedicated to building and maintaining mobile solutions for any size business. Interapt specializes in iPhone and Android app development, Google Glass development, wearable technology, bluetooth and iBeacon technology, graphic design for mobile and web, SMS services, analytics, and push notifications. As a one-stop shop for businesses to execute their mobile strategy, Interapt services take advantage of the latest technologies and provide clients with an unprecedented level of customer and employee engagement. To learn more about Interapt, visit http://www.interapthq.com.