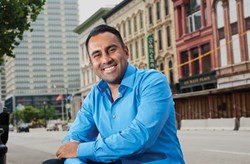 Louisville, KY (PRWEB) October 08, 2013
Business First of Louisville recently announced and honored their 40 Under 40 award recipients for 2013, and Interapt's Founder and CEO, Ankur Gopal, was among them.
40 Under 40 Awards are bestowed annually upon 40 members of Louisville businesses in recognition of their personal career achievements, level of community service and likelihood to be among those who move, shake and disrupt the future of Louisville business and commerce. Besides forming and running Interapt, a fast-growing tech firm that develops smartphone solutions for clients that range from startups to Fortune 500 companies, Gopal also earned this award for his many philanthropic activities in the community.
Gopal recently completed the exclusive and intense Ignite Louisville program offered by the Leadership Louisville Center, during which he took part in the Yum! Ignites Louisville Challenge. His team of volunteers produced a narrow runner-up finish, in large part due to Ankur's software and programming expertise. His team helped craft, among other things, high-tech administrative solutions that improved marketing, infrastructure and organization for St. Elizabeth's Catholic Charities. These contributions to the local charity were so extensive, their overall value was estimated at $70,000.
Ankur also donates his time to Junior Achievement as a member of their Regional Board of Directors. He has not only helped from a guidance and administrative perspective, but also personally lectured young JA members in local schools about the business world and best practices for serving the community and building a career as an adult. Gopal credits JA with grooming him for a future role as a CEO: "When I was young, I knew nothing about business. Junior Achievement was a wonderful program that helped me learn the ins & outs of running a business. The more I learned, the more passionate I became about it. Without JA, I doubt I would've been motivated to start my own business. Now, as a member of the board, it feels rewarding to give back, as it does when I teach in schools and help with other JA programs."
Under Ankur's watch, Interapt has also been recognized as a finalist for Greater Louisville Inc's Inc.credible Awards twice, most recently in 2013 for the Inclusion Award, which recognizes companies that are champions for diversity, both in business practices and internal operations. "The best part of being nominated for this award was not knowing that we were doing anything special. I'm proud that we simply recognize talent. If you're good at your job, a hard worker, a good human being, and you fit well with our team, then that's all we care about," said Ankur.
Gopal has also provided rewarding opportunities with Interapt to various Louisville internship programs, including Greater Louisville's Intern to Earn program and the University of Louisville's Entrepreneurship MBA program. Having been an entrepreneur, a guest lecturer and New Venture Challenge judge at the University of Chicago's Booth School of Business; and a business mentor at the University of Louisville Forcht Center for Entrepreneurship, Ankur has intimate knowledge of the skill set needed for student interns to build their careers. Turning his beliefs into actions, Gopal hired former interns Alicia Reeves and Hunter Gerlach to full-time positions in Interapt's Design and Operations departments, respectively, as soon as their internships concluded.
About INTERAPT
Interapt is a mobile software development firm dedicated to building and maintaining mobile solutions for any size business. Specializing in iPhone and Android app development, desktop and mobile web development, mobile app and web design, SMS, analytics and push notifications, Interapt is a one-stop shop for businesses to execute their mobile strategy. Interapt services take advantage of the latest technologies and provide clients with an unprecedented level of customer and employee interaction. To learn more about Interapt, visit http://www.interapthq.com.