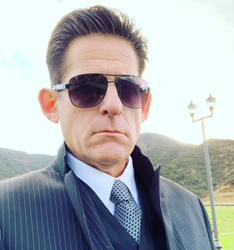 No artist is going to get rich by getting pennies for hundreds of song streams. Intercept Music gives labels the keys to success: access to all the promotion, marketing, distribution and other services of a major label, with full control.
LOS ANGELES (PRWEB) October 22, 2021
Expanding its strategy to rapidly expand its customer base, Intercept Music, Inc., a wholly owned subsidiary of entertainment-technology company Sanwire Corporation (OTC PINK: SNWR) announced that music industry executive Tory "Flossy The Boss" Harrelson will assume the role of vice president of business development. Flossy The Boss will be charged with enrolling independent music labels for Intercept Music services. The announcement was made today by Tod Turner, president of Intercept Music.
Independent record labels represent a major market opportunity for Intercept Music to grow customers and revenue. In the last year alone, Intercept Music has added a roster of 40 independent labels, representing hundreds of artists. Intercept Music's robust services – social media, playlists, press releases, advertising, licensing, merchandising, and more – are specifically designed to maximize the revenue potential of independent artists. Combined with global distribution through Ingrooves/UMG, independent labels using Intercept Music have an unmatched array of tools to make their artists successful.
"We created Intercept Music to address the needs of independent labels and artists, and nobody understands those needs better than Flossy The Boss," said Turner. "Working as an independent, Flossy has come out on top again and again. Adding Flossy's credibility and reputation to our outreach makes it even clearer: we know the indie label space, and we can get your music heard."
Flossy The Boss comes to Intercept Music as a respected leader with decades of success generating revenue for labels and artists. As a label executive with hands-on experience in all aspects of the industry – artist development, merchandising, marketing and promotion, touring, composing, and producing – he has built top-10, platinum- and gold-record acts including Mack-10, Glasses Malone, and Xzibit.
Flossy The Boss noted, "No artist is going to get rich by getting pennies for hundreds of song streams. The independent record labels need to explore the real money-making opportunities. Intercept Music gives labels the keys to success: access to all the promotion, marketing, distribution, and other services of a major label, with full control."
In addition to his Intercept Music duties, Flossy The Boss is also the CEO of What's Good Entertainment, a leading, free, on-demand video streaming service. His booking agency, VIP Booking, handles engagements for an extensive list of A-list clients. Flossy The Boss' social media content, including several podcast shows and an Instagram channel with more than 22,000 followers, shares his insights and experience about building a world-class entertainment career.
Intercept Music offers a range of services designed to generate revenue for artists and labels. The platform gives artists and their labels immediate access to hundreds of digital stores and every major streaming platform, including Spotify, Apple Music, Amazon Music, Pandora, and YouTube Music. In addition, Intercept Music's powerful, proprietary social media marketing and promotional software creates an effective communication channel for promoting music, Merch and performances. In addition, the company's fully managed advertising, promotional services, and the opportunity to sell merchandise through branded online stores gives independent labels all the revenue-generating tools of any major label, bar none.
About Intercept Music, Inc.
Intercept Music, Inc. is an entertainment technology company dedicated to helping independent labels and artists effectively distribute, market, and monetize their music. Sold through a Software as a Service (SaaS) model, Intercept Music's online platform delivers an unsurpassed combination of marketing, promotion, and distribution to hundreds of stores worldwide and every major streaming service, including Apple Music, YouTube Music, Pandora, and Spotify. Intercept Music offers full-service, concierge-style support and even one-on-one coaching from award-winning music industry professionals. Intercept focuses exclusively on the independent music market, which is estimated at 12 million artists, and is the fastest-growing sector of the music industry. For more information, visit http://www.interceptmusic.com.
About Sanwire Corporation
Sanwire Corporation (OTC PINK:SNWR), a diversified company with a focus on technologies for the entertainment industry, has been involved in aggregating technologies for a number of years. We look for opportunities in fragmented markets, where technology can be applied to consolidate services into a single platform of delivery. Our current focus is advanced entertainment technologies. For more information, visit sanwirecorporation.com.
For further inquiries, contact ir@sanwirecorporation.com, or press@interceptmusic.com
Safe Harbor Statement: This release contains forward-looking statements. All statements regarding our expected future financial positions, results of operations, cash flows, financing plans, business strategy, products and services, competitive positions, growth opportunities, plans and objectives of management for future operations, listing on the OTC Markets, including words such as "anticipate," "if," "believe," "plan," "estimate," "expect," "intend," "may," "could," "should," "will," and other similar expressions are forward-looking statements and involve risks, uncertainties, and contingencies, many of which are beyond our control, which may cause actual results, performance, or achievements to differ materially from anticipated results, performance, or achievements. We are under no obligation to (and expressly disclaim any such obligation to) update or alter our forward-looking statements, whether as a result of new information, future events or otherwise.