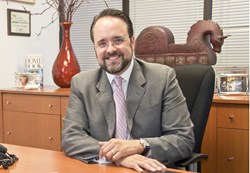 The New Broker's Activity Reports will give the Buyer or Seller a Snap Shot of the Market.
Miami, Florida (PRWEB) October 21, 2013
After an interested person requests the mentioned report, just by clicking and selecting between a listing or a development, one of Interinvestments Realty's experienced associates will prepare a detailed market activity report that will take into account the properties closed during the last six months, the actual sold properties pending closing, and the current ones that are active for sale on the market.
"When a client selects a Broker's Market Activity Report and Analysis on our website, he/she will receive via email a snap shot of the market activity for the requested community or listing," says Emilio J. Cardenal Broker and Chief Executive Officer of Interinvestments Realty. "The Interinvestments Realty report will include twelve months of 'closed properties,' current transactions 'pending' closing and today's availability. In addition, the report will include for each individual property, the days that the property has been on the market and any Broker observations regarding any special finishes and upgrades, it will also include the surrounding views and any special feature that the subject property has."
"The idea is to provide the general public with something more personal then the regular computerized report. Our format is a very comprehensive report showing our clients more detailed information on the requested property, and an analysis on the area in which the property is located. This includes any particular resale listing or development," adds Cardenal.
"We will make a special effort to provide our personal input, taking a closer look at the activity in the area, reviewing the recent short-sales and foreclosed properties, the buyers and sellers motivation when selling and buying, and most importantly, we will take into account the actual condition of the subject property and its comparables," continues Cardenal.
"For us it's always been very important to maintain an open relationship and constant communication with our clients," finished Cardenal. "That existing bond has allowed us to sell more than 5,000 new-construction residences in 360 Developments, and to be one of the top listing and sales offices in our local Multiple Listing Service System (MLS). We will continue to improve our ways to communicate with our clients, offering them easy and fast channels, like emails, upgrading our website and digital promotion with newsletters, press releases and magazines, but at the same time making it a very personal and informative experience."
If you want more information about our training seminars, or how to buy a new-construction or resale property in South Florida, we invite you to contact our Corporate Offices at the telephone number that appears on our contact information, next to this communication.