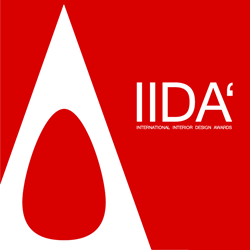 IIDA seeks to highlight outstanding interior designers demonstrating excellence, intelligence and diligence in their interior design projects.
Como, Italy (PRWEB) January 26, 2014
The fourth edition of the International Interior Design Awards (IIDA) is now open for entries from interior designers, builders, developers, architects and interior design studios from all countries. Interior Designers, Interior Architects and Design Studios worldwide are called to enter their best interior design projects.
Entries to the A' International Interior Design Awards will be judged by an expert and internationally influential jury panel composed of prominent scholars, established designers and press members. Entries will be blind-voted, and the jury decision will be final. The deadline for entries is 28 February 2014. Results will be announced on April 15, 2014.
Laureates of the International Design Awards for Interiors will be invited to an exclusive gala-dinner which provides direct access to design manufacturers and producers but more importantly also allows the interior designers to connect with real estate developers and builders for business opportunities. The Interior Design Award winners will receive the special 3D printed metal trophy and the interior design excellence award certificate. Each IIDA winner is going to get a special public relations package that includes press release preparation, distribution and communication to thousands of magazines, as well as poster exhibition of their interior designs in Italy.
Entries are accepted in the following interior design categories: 1. Interior design of retail spaces such as shops, flagship stores, showrooms, trade-fair booths, and exhibitions. 2. Interior design of recreation and leisure spaces such as interior design of hotels, bars, clubs, restaurants, wellness centers and parks. 3. Interior design of work environment; interior design of offices, conference halls and business centers, 4. Interior design of vehicles; interiors of yachts, airplanes or trains, 5. Interior design of public spaces including but not limited to libraries, hospitals, theaters and schools. Furthermore, there is also an interior design object competition category where designers could enter bespoke products and custom made furniture for interior spaces, including lighting, craft and art works.
The list of jury members, evaluation criteria, competition principles as well as further details regarding award prizes and the entry form for the International Interior Design Awards could be found online at adesignaward.com Entering works to the IIDA is easy, and the procedure could be completed online following the detailed presentation and entry guidelines. For an in-depth presentation and other design award categories visit http://www.whatisadesignaward.com
About the A' International Interior Design Award
Organized by A' Design Awards, the International Interior Design Awards champion the best interior design worldwide, highlighting outstanding interior design works and projects that demonstrate exceptional creativity, intelligence and diligence in design. The Interior design accolades aim to support interior design profession by creating global awareness and publicity for leading designers. The IIDA create incentives for talented designers and architects to come up with better projects that create value for society. The accolades also help interior designers to promote their works, by reaching international audiences and press members.