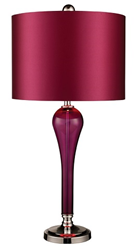 Perhaps the simplest way to add Pantone's Radiant Orchid to a home is to opt for an actual potted orchid, which gives the most authentic, natural color and smells great, too.
(PRWEB) January 27, 2014
HomeThangs.com – the Online Home Improvement Store – has made their goal to deliver the right product to the consumer. With that in mind, shopping and home design tips, as well as special product selections are being introduced.
Pantone's color of the year for 2014 is Radiant Orchid. Meant to symbolize imagination, innovation, and creativity, this bright fuchsia purple is the vibrant, flowering answer to last year's emerald green, and a fresh, vivid gem tone. HomeThangs.com has introduced a guide to a few of the best ways to incorporate the color into the home.
Small Decor Items
Last year's emerald was a color that could easily be used to paint a whole room, or upholster a whole set of furniture, but Radiant Orchid works best in small doses. Practically speaking, that means that orchid is a VERY easy color to add to a room, because even a few small accessories – like orchid colored throw pillows, a blanket, seat cushions, or even an area rug - will really make the whole area pop.
Paint
Painting is generally the easiest way to add a fresh new color to a room, but again orchid is such an intense color that it probably shouldn't be used for an entire room. Instead, use the color to draw the eye with smaller accents, like a small statement wall, or to paint the very back of a bookshelf or cabinet. This is a project that's amazingly quick and simple to do, and will make everything on the shelves stand out spectacularly.
Furniture
Many furniture manufacturers offer upholstery in Pantone's really intense, vibrant fuchsia color. These vibrant pieces are great for offsetting a stark, gray scale modern décor, or adding a little pop of color to a more traditional warm neutral decor.
Area Rugs
Orchid colored area rugs can be used to dramatically define a space, like a dining area, bedroom set, or living room set. A good area rug should be big enough for an entire "zone" of furniture to sit comfortably and completely on top of it. Because the color is so vivid, a simple rug will tie together everything on it, and visually separate it from the rest of the space – an especially useful technique for a large greatroom or open loft space.
Layered Pinks And Purples
For those who really love pinks and purples, it's possible to use radiant orchid as the base for an overarching color scheme. Paired with black and white patterns, this bright fuchsia tone makes for a striking, glamorous modern look – think black and pink zebra print. But for a more typical, contemporary space, layer it with a variety of other pinks and purples. Dusky lavenders and soft rose tones mellow out the vivid orchid, making for a slightly softer color scheme.
An Actual Orchid
Finally, while "Radiant Orchid" is technically a color on a swatch, actual orchids are basically the perfect way to incorporate the color into a home. Orchids are bright and colorful and amazingly fragrant, and though they require some special care, they're prized around the world for their delicate beauty and uniquely shaped blossoms. Plus, orchids thrive in pots and indirect sunlight, meaning they can thrive indoors.
To see some beautiful rooms with Radiant Orchid decor, check out the full article here.
HomeThangs.com is not only a home improvement superstore, it also provides expert design tips and a comprehensive shopping guide, taking the ideas from professional interior designers, and offering tips to the consumers on how to pick the products to best suit their needs.