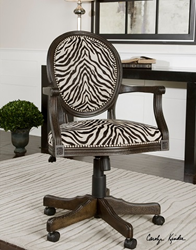 While the inherent drama of a sharp black and white contrast lends itself well to a modern design, it's also a very good fit with a more rustic, industrial style home decor.
(PRWEB) February 04, 2014
HomeThangs.com – the Online Home Improvement Store has made their goal to deliver the right product to the consumer. With that in mind, shopping and home design tips, as well as special product selections are being introduced.
A black and white decor is a daring choice, but one that's starting to become quite popular, despite the larger trend towards decorating with bright, bold colors. Put black and white next to each other and the contrast between them is instantly striking – and fool-proof. HomeThangs.com has introduced a guide to using this daring style with a variety of different types of decor.
Modern
There are different kinds of black and white. Black and white done in a highly glossy finishes – on the walls, cabinets, wallpaper, lighting fixtures, or even furniture – immediately make a room look and feel more modern. That sleek, chic, polished sort of black and white has a very glamorous, urban vibe. Posh modern spaces tend to use black more liberally and more boldly as well, as in black walls, black and white wallpaper, and zebra print accents.
Reclaimed
While the inherent drama of a sharp black and white contrast lends itself well to a modern design, it's also a very, very good fit with this year's trend towards using reclaimed, salvaged, and found objects for a more rustic, industrial style home decor. Slightly weathered blacks – rather than glossy ones – help underscore the appearance of age while still giving the space a slightly formal quality. Sticking to a strictly black and white decor also makes it easy to visually group and coordinate unusual or found decor items like old signs, framed manuscript pages, old photos, antique typewriters, or really any interesting looking object.
Traditional
A more traditional design offers a middle ground between these two techniques, using blacks and whites that are clean and solid but not overly glossy. Modern designs tend to favor black, but a more traditional look will be predominantly white, using black detailing – like a counter top, hardware, handrail, lighting fixture, or piece of accent furniture – to make the white stand out as being more intense. Dark finished floors were a popular technique for creating this effect a few years ago, but have fallen somewhat out of favor. Instead, opt for black counters in the kitchen and bathroom and other large pieces in the rest of the house.
Patterns
With most colors, layering too many patterns can make a room look busy. But multiple black and white patterns can work surprisingly well. Bolder patterns with less fine detailing (either in black or white) tend to work a little better, as very fine lines can be a bit dizzying, but by and large this is one design where mixing and matching lots of wild patterns is really fair game.
Greyscale
If a very sharp, bold contrast seems a little overwhelming, consider working in a little bit of gray. Using shades that aren't pure white or black will help soften the whole space, giving it a less dramatic feel but keeping that same classy, sophisticated look. Very soft grays will also help tie together multiple fine white-on-black patterns, making the space feel better blended and more uniform without totally sacrificing the edginess of a high contrast style.
Color
It's also incredibly easy to add a splash of color to a black and white decor. This might sound a bit counter-intuitive, since the design itself is colorless, but what that means practically is that even one single brightly colored piece – whether it's a potted plant, accent chair, or a throw pillow – can completely alter the tone of the room. Any bold color will work, as will an item of just about any size. And the best part? That means it's easy to totally change the look of the space by swapping out just one or two items or even just a bouquet of flowers.
To see some beautifully designed black and white rooms, check out the full article here.
HomeThangs.com is not only a home improvement superstore, it also provides expert design tips and a comprehensive shopping guide, taking the ideas from professional interior designers, and offering tips to the consumers on how to pick the products to best suit their needs.