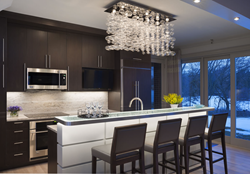 "Success for me is when the clients walk into a space I created, and they feel drawn to it, even if they don't know why. When the space feels like an extension of one's self, when it feeds the soul and allows you to feel at home..." said Cheryl Nestro
Northville, MI (PRWEB) November 05, 2014
Tutto Interiors, a leading interior design firm based in Northville, MI, announced today that it was the recipient of 7 Detroit Home Design Awards for 2014. The project submitted to the home design contest was the complete renovation of a 10,000 square foot Bloomfield Hills home; it won in multiple design categories, including 1st place for home theatre, traditional foyer, interior lighting and small space remodel.
"This year has been particularly rewarding for Tutto Interiors. While renovating a 10,000 sq ft space into a dream that was only imagined in my client's mind, I discovered the transformative power of renovation" said Cheryl Nestro, the company's Principle and lead interior designer.
"I may call myself an interior designer, but it feels like what I actually do, is orchestrate the dreaming process. I listen to my clients, I absorb their dreams and then I steer that energy into something that is real. I look at a space holistically… not just looking at one room, but I consider how it connects to the whole, and to my client."
Cheryl worked closely with the client, Dr. Louis Radden, during the renovation, to create living spaces that are both beautiful and practical, for him and his two teenage sons.
Drawing decorating cues from the architecture of the space, and inspiration from the client's personality and lifestyle, Cheryl accomplished a renovation that is impeccable in both style and function. Contemporary interior design, understated elegance, exquisite details, and a gentle flow from one room to the next, helped transform the home into a sophisticated and sumptuous, yet still comfortable environment. A subtle, neutral color palette, rich layering of a variety of textures and finishes, and sparkly light fixtures work together to add interest and sophistication, and maintain an elegant contemporary feel.
The stunning, double staircase foyer ranked 1st for "traditional foyer." Light colored marble, white walls, dark wood, and a crystal chandelier hint of understated elegance and tasteful luxury that carries throughout the home. The 1st level renovation of the kitchen/family room area ranked 1st in "small space remodel."
The minute attention to detail, evident throughout the home, was recognized with 1st place awards in the categories for using decorative glass and mirror, interior/exterior lighting and use of fabrics and wall coverings. Mentioned in the judges' accolades were the "cascading bubbles chandelier paired with an illuminated glass countertop in the lower level kitchen, the home theatre transformation (fabric panels, rich wood paneling, leather seating, golds and browns, meld luxuriously together for a space that's inviting and plush) and the layering of fabrics and materials in the family room for a plush and sophisticated look."
"Overall, I feel my house has evolved into something I never imagined it could be… that's the beauty of working with an accommodating and talented interior designer" said Dr. Radden, when asked about the renovation.
"Success for me is when the clients walk into a space I created, and they feel drawn to it, even if they don't know why. When the space feels like an extension of one's self, when it feeds the soul and allows you to feel at home, that's when I feel I was successful, and that's what I look to accomplish for each one of my clients, with each of my renovations" said interior designer Cheryl Nestro.
About Tutto Interiors: A premier choice for interior design for over 12 years, Tutto Interiors is a multifaceted, full-service design studio that masterfully interprets the dreams of discerning homeowners. Unsurpassed comfort, quality and warmth echo within the walls of each project they design. Without allegiance to a particular style, Tutto gracefully merges traditional, transitional and modern styles, to create spaces that reflect the personal taste and lifestyle of each and every client. Interior design services provided by Tutto Interiors include interior design consultation, project management, furniture/fabric selection, paint and wall treatment, lighting design and more.