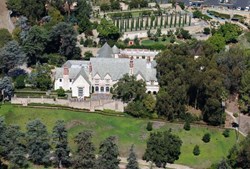 Marc Thee and his team of designers at Marc-Michaels Interior Design Inc. will be designing the Master Bedroom Suite
Winter Park, FL (PRWEB) September 03, 2013
In November 2013, Design House International (DHI), the City of Beverly Hills and Friends of Greystone will team up with the country's most acclaimed interior designers and their high-powered clients in a "first-of-its-kind" event: The Titans of Business and Best of Design Showcase House in Beverly Hills, CA at the historic Greystone Mansion.
Marc Thee and his team of designers at Marc-Michaels Interior Design Inc. will be designing the Master Bedroom Suite as part of this collaboration. The room design choices for the Greystone Mansion will reflect the selected titan's individual style.
Marc Thee has chosen Betty Jane France, a dear friend and client of his, as the Titan of Business and inspiration for the master suite design. The France family is racing royalty. Bill France Jr., Betty Jane's late husband, was the CEO and son of the Founder of NASCAR.
Visitors to the Showcase House will enjoy a once-in-a-lifetime opportunity to experience several revered business leaders' taste in home design. Tickets are available for purchase and show house dates are listed on the Design House International website.
This event helps to support the ongoing restoration of this landmark estate, while creating awareness of Greystone's important history. A portion of the proceeds will go toward the Friends of Greystone ongoing restoration fund.
Providing beautiful, comprehensive, full-service interior design is why Marc-Michaels Interior Design, Inc. is consistently recognized as an industry leader. The firm's diverse and imaginative portfolio has been featured in numerous publications, and has garnered over 400 national and regional design awards. Please visit http://www.marc-michaels.com for more information.