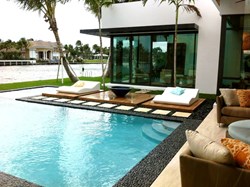 Marc-Michaels Interior Design, Inc. is currently designing a contemporary spec home on Spanish River Rd. in Boca Raton, Florida.
Winter Park, FL (PRWEB) November 21, 2013
Marc-Michaels Interior Design, Inc. recently designed a contemporary spec home on Spanish River Rd. in Boca Raton, Florida. This residence was built by Mark Timothy, Inc. Luxury Homes with architecture by Affiniti Architects.
The overall feel of this house is clean contemporary with details that hint to Balinese style. The home can best be described as barefoot elegance with an organic feeling. Marc-Michaels Interior Design, Inc. has utilized an open floor plan with the inside and outside spaces flowing together cohesively. Floor to ceiling windows are featured throughout the home creating an open volume space.
The color palettes found in this home were inspired by the sunset and nearby ocean. The designers used neutrals with pops of turquoise, ocean tones and oranges.
Noteworthy interior detailing done by Marc-Michaels includes stained wood ceilings which travel from the exterior Covered Entry, through the Great Room, and out through the Covered Loggia. These wood ceilings combine the exterior and interior spaces and create a cohesive feel. The Foyer features contemporary stacked stone columns that are lit from the ceiling and floor, showcasing the texture of the stone. The Den features an angular stained wood ceiling design which wraps onto the walls.
This contemporary home also has a resort style swimming pool with a fire pit integrated into the wood decking. Plush sun beds surrounded by black river rocks create a relaxing area to lounge in the Florida sun.
The Master Bathroom has an open bath and closet concept. A glass wall separates the closet from the bathroom featuring a combination of lacquered bamboo and white closets. Lacquered bamboo vanities sit in front of floor-to-ceiling windows with suspended mirrors.
This home is currently listed for sale with Premier Estate Properties.
For over 26 years, Marc-Michaels Interior Design, Inc. has developed a relationship with each client, architect and builder, making their homes a reflection of their skills and talents. Marc-Michaels has become renowned for their quality service and attention to design details for every project.