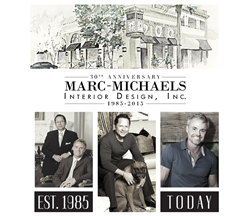 This year Marc-Michaels Interior Design is celebrating a company milestone: 30 years in business.
Winter Park, FL (PRWEB) January 15, 2015
Marc-Michaels Interior Design, Inc. was founded in 1985 and is still run today by the two people who started it all: Marc Thee and Michael Abbott. This year Marc-Michaels Interior Design is celebrating a company milestone: 30 years in business. The firm's headquarters is currently located at 720 West Morse Boulevard in Winter Park, Florida.
The firm started as a small design boutique in Winter Park, Florida, but quickly outgrew itself. Marc-Michaels purchased its first showroom on the iconic Park Avenue but in 2000 the firm had over 50 employees and moved into its current location only a few blocks away from where it all began.
Today, Marc-Michaels Interior Design is regarded as one of the country's most respected interior design firms specializing in interior detailing for private residences, luxury yachts, commercial projects & model merchandising. The firm's approach to design has garnered them over 400 national design awards. Architectural Digest has twice named Marc-Michaels to their prestigious list of the "Top 100 Designers in the World," and has featured the firm's work in numerous issues. Interior Design Magazine has consistently ranked Marc-Michaels as one of the largest interior design firms in the nation.
From a young age, Marc Thee learned a love of art from his mother, and also had his father's entrepreneurial blood running through his veins. After apprenticing nights and weekends for a local interior designer while he was attending Rollins College, Marc knew that interior design was his passion, and was quickly ready to embark on his own path. Together, with already accomplished accountant Michael Abbott, the two took a leap of faith and opened the doors of Marc-Michaels Interior Design, Inc. They attribute much of the firm's success in the industry to having the perfect balance of accountant + artist, yin + yang.
The firm's work is inspired by clients' needs and desires, which Marc-Michaels interprets and develops to exceed expectations. An extensive library of unique high-end finishes, fabrics and furniture lines from all over the globe and longstanding relationships with vendors allow them to work with a diverse scope and budgets. For more information visit http://www.marc-michaels.com.