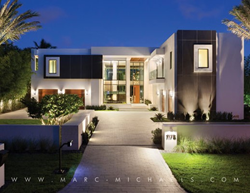 New Modern Boca Raton Home Designed by Marc-Michaels Interior Design, Inc. Now For Sale
Winter Park, FL (PRWEB) September 17, 2015
A brand-new residence designed by Marc-Michaels Interior Design, Inc. in The Estates of Boca Raton is now ready for purchase. The subtly glamorous modern style captures the essence of Gold Coast living in a prestigious beachside enclave considered the crown jewel of Boca Raton.
Serenely set on the Intracoastal Waterway, this stunningly designed and furnished showpiece is the collaboration of high-end builder J.H. Norman Construction Company, innovative architect George Brewer, award-winning Marc-Michaels Interior Design, and landscape architect Dave Bodker.
1175 Spanish River Road in Boca Raton is 8,303 square feet consisting of 5 bedrooms and 8 bathrooms. The furnishings are a mix of clean lines, natural edges and a few mid-century nods. There are accents of brass which repeats in many of the architectural details throughout. The colors are kept mostly neutral and warm in the common spaces while the Master Suite takes on a crisper palette of soft gray-blues and bright white.
This residence was designed by Jessica Lee, Rachel Jones, Marissa Palozzi and Kathryn Dunagan of Marc-Michaels Interior Design, Inc. The design team's objective was to bring a warmth and elegance to the existing beautifully modern design of the house by layering a combination of refined and organic finishes and details.
Artistic finishes such as the double-height linear fireplace and walnut accent wall give the open living spaces a balance of drama and intimacy. The dramatic two-story window-walled living and dining rooms combine in an effortless open space set off by a coral-and-onyx see-through linear fireplace and a cove-lit wood plank ceiling.
For more information on viewing or purchasing 1175 Spanish River Road in Boca Raton, please contact Premier Estate Properties.
Focusing on interior detailing, strong finish selections and hand-selected furnishings, Marc-Michaels' signature look translates to all types of projects; private residences, model merchandising, condominiums, motor coaches, jets and mega yacht interiors. For more information visit, http://www.marc-michaels.com.