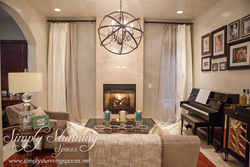 In this particular project I worked to capture a classic, elegant style, with a casual feel.
San Diego, CA (PRWEB) March 20, 2014
Darcy Kempton, owner of San Diego's Simply Stunning Spaces interior design firm, recently spearheaded an incredible transformation for restauranteur and entrepreneur Ty Hauter, owner of Good Time Design and it was a revamp that was featured in a recent edition of San Diego Magazine
"In this particular project, I worked to capture a classic, elegant style, with a casual feel. Ty and Suzannah wanted a home that would be warm and inviting, yet easy to maintain," Darcy explained of the revamp of Hauter's Coronado home. She added, "They wanted a cozy environment that would be child-friendly, yet suitable for entertaining as well."
Darcy especially enjoyed working around the home's ten fireplaces, which added a warm and cozy ambience throughout the home. Hauter's home also includes a roof deck, which was transformed into a delightful space to relax, unwind and entertain.
In the San Diego Magazine article, Darcy discusses her design choices, from the wrought iron pendant chandelier in the living room, to the soft grey accents that are carried throughout the home's new design scheme. You'll also find some tips on where to shop in San Diego for lighting, rugs, furniture and home accessories.
Darcy's client, Ty Hauter, a bouncer-turned-entrepreneur, is no stranger to transformation as he's credited with transforming San Diego's East Village neighborhood with his businesses, which include a total of eleven bars and restaurants, including the Southpaw Social Club, Whiskey Girl and Bub's at the Ballpark.
"Work seeps into everyday life, but home is where we strive to balance all the chaos going on with the business....This is my place to decompress, where we can be together as a family" Ty explained.
Darcy works with clients throughout the San Diego area and beyond. From transforming small downtown condos into beautiful, inviting spaces to updating busy professionals' sprawling estates with a more modern aesthetic, to creating one-of-a-kind designs that blend form and function, Simply Stunning Spaces offers design services for a vast range of different clients.
Simply Stunning Spaces' Darcy K can be contacted by phone at 619-296-0846.
To learn more about Darcy and the services she offers to homeowners and for some free decorating tips & ideas visit http://www.SimplyStunningSpaces.net
###