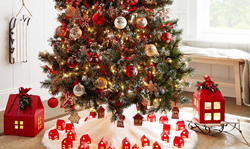 Cadeaux Christmas has combined décor from over 30 European artisans to create a series of limited-edition Christmas Looks
DALLAS (PRWEB) September 27, 2022
Christmas just got easier, and much more stylish. Cadeaux Christmas Interior Decorating (https://ChristmasInteriorDecorating.com) has announced the launch of its new holiday decorating service. A full-service interior design company, Cadeaux Christmas offers complete decorating packages for residential and commercial interiors.
"We're excited to launch this service," says Thomas Dahm, co-owner of Cadeaux Christmas Interior Decorating. "It fills a void for high-end Christmas décor in the American market."
Cadeaux Christmas has combined décor from over 30 European artisans to create a series of limited-edition Christmas Looks. This year's Looks include luxury designer Christmas trees like the company's "Enchanted Evening," as well as whimsical, family-oriented looks like its "North Pole" and "Gingerbread House" Looks. Each Look can be customized to the client's tastes.
According to Dahm, he and his wife started the Cadeaux Christmas because of their European roots.
"My family is German, and my wife is from Romania," says Dahm. "We know how magical a European Christmas can be, but we've struggled to find the same high-quality Christmas décor on the American market."
In the end, Dahm says, they decided to import European Christmas décor themselves and offer it to American homeowners and businesses.
"European blown-glass ornaments are a true world heritage, but they're a dying art," says Dahm. "Cheap, plastic ornaments from Asia have largely pushed European ornaments and décor off the American market."
The company says that it has one of the largest collections of European blown-glass ornaments in the United States. These include unique options available exclusively through Cadeaux Christmas, such as its 24-Karat gold ornaments.
"These ornaments are unique in the world," says Dahm "Other gold ornaments you see are only 18-Karat. There's only one ornament maker who has mastered working with 24-Karat gold."
Cadeaux Christmas Interior Decorating offers much more than just Christmas ornaments. It offers hand-embroidered tree skirts, under-the-tree luminaries, silver-finish centerpieces, handmade stockings and other high-quality items.
Dahm says that the company is initially focused on the Texas market but can serve clients nationwide.
"We have several options for clients outside of our area," he says, "Those include looks that we can ship to people in other states, and we can travel to install our décor as well."
About Cadeaux Christmas Interior Decorating
Based in Dallas, Texas, Cadeaux Christmas Interior Decorating is a full-service interior design company specializing in European Christmas décor. The company has created an exclusive collection of carefully curated designer Christmas trees and matching décor. Its limited-edition Looks are available for full-service installation, drop-off or shipping. To learn more, call (972) 818-5673 or visit https://ChristmasInteriorDecorating.com