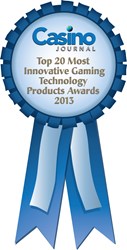 Las Vegas, Nevada (PRWEB) February 18, 2014
Today, Intermezzo announced that the ClubLinq® API has been selected, by an independent four-person panel, as a Top 20 Most Innovative Gaming Technology Product for 2013. The awards are presented by Casino Journal magazine, in conjunction with the Gaming Technology Conference, held in Las Vegas next month.
"Wow, what an honor it is to be selected, for this prestigious award. In our first full year of business, to be evaluated, let alone chosen, in the same group as the other submitting companies and winners, is exhilarating and truly humbling. Thank you to the selection panel, congrats to the other winners, and extra thanks on a job well done to Intermezzo's Development & Integration Team," said Jeff Baldi, President & CEO, Intermezzo, Inc.
Judges for the 17th annual contest were:
Warren Davidson, Slot Director, Coushatta Casino Resort
Donne Grable, Vice President of Gaming Operations, VCAT
Gaye Gullo, Corporate Vice President Marketing & CMO, Penn National Gaming
Claudia Winkler, President, G.H.I. Solutions
During the Gaming Technology Conference, March 17-19 at Caesar's Palace Las Vegas, winners of the Platinum, Gold and Silver awards will be announced, in addition to the Attendee's Choice Award, which is voted on during the conference.
About Intermezzo, Inc.
Intermezzo, Inc. is incorporated in Nevada and is focused on increasing profit & reducing hard costs, by connecting you with your customers via the World Wide Web, ALL mobile devices, and social networks with the ClubLinq® API (Application Programming Interface), custom developed software and database services, as well as, professional services for just about any need you have.
For more information please call or visit, +1.702.521.0317, or http://www.intermezzo-inc.com