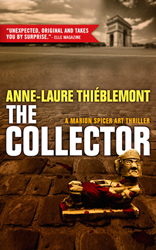 The colors, textures and contrasts are all expertly created for the reader.
New York, New York (PRWEB) August 20, 2015
On the international mystery scene, translation publisher Le French Book is bringing out two new titles this month.
— US Debut for Paris Art Mystery Series —
Perfect for art mystery lovers, The Collector by Anne-Laure Thiéblemont is "captivating, with twists and turns and murders, along with a dive into the little-known world of art specialists and counterfeiters."
Some people collect art, other collect trouble. Marion Spicer spends her days examining auction catalogues and searching for stolen works of art. She is a top-notch investigator when it comes to eighteenth-century art. Her well-ordered life changes when she inherits a prestigious collection of pre-Columbian art from a father she never knew. There are conditions attached: she must first find three priceless statues. Her father's death sparked much greed, and Marion finds herself facing the merciless microcosm of Paris art auctions and galleries, with its sharks, schemes, fences, traps, scams, and attacks. Her quest draws her into a world where people will kill for a love of beauty.
"Fans of Cara Black will also love our heroine, Marian Spicer. There is the same gritty quality of the ugliness hiding underneath Paris' gorgeous exterior."
— New Title in Wine Mystery Series —
As much about food and wine as about a mystery, the Winemaker Detective mystery series by Jean-Pierre Alaux and Noël Balen is a new "obsession" for bloggers. One reviewer warned: "Do not read these while you are hungry."
Flambé in Armagnac is the latest in the series, released this month. A small town holds fiercely onto its secrets. In the heart of Gascony, a fire ravages the warehouse of one of Ar- magnac's top estates, killing the master distiller.Wine expert Benjamin Cooker is called in to estimate the value of the losses. But Cooker and his assistant Virgile want to know more. Did the old alembic explode? Was it really an accident? Why is the estate owner Baron de Castayrac penniless? How legal are his dealings?
"Wine lovers and book lovers, for a perfect break in the shadows of your garden or under the sun on the beach, get a glass of Armagnac, and enjoy this cozy mystery. Even your gray cells will enjoy!" —Library Cat
About Le French Book
Le French Book is a New York-based publisher that brings France's best mysteries and thrillers to new readers across the English-speaking world. Its motto is: "If we love it, we'll translate it."
©2015 Le French Book, Inc. All rights reserved. Information is subject to change without notice.